Main Content
by C. Mark Batten, Office of Communications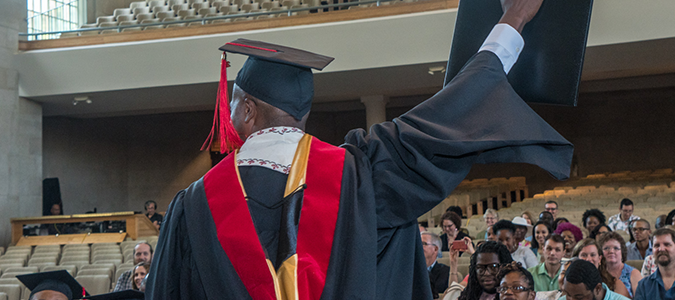 Wake Forest University conferred degrees to nearly 1,900 graduates during Commencement held on Monday, May 15. Of the graduates, Master of Divinity degrees were awarded to thirty-eight students at the School of Divinity. Four divinity graduates received joint degrees, three with a Master of Arts in Counseling and one with a Juris Doctor.
The School of Divinity held two ceremonies honoring graduates, a hooding ceremony on Saturday, May 13, and a diploma ceremony following Commencement on Monday.
The hooding ceremony, planned by members of the class of 2017, used imagery that recalled how the class had begun their time together at the School of Divinity during New Student Orientation. Themed Table of Grace,   a dominant image of the service was the table as an expansive place around which religious leaders are called to gather and grow as disciples of hospitality and grace. Three graduates, Demi McCoy, Daniel Reese and Andria Williamson, and liturgical movement group, Amazing Grace, contributed to the service with powerful offerings of original spoken word, music, and dance.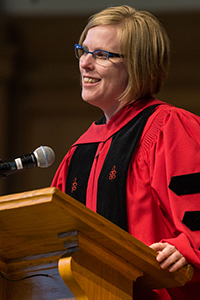 The class selected Katherine A. Shaner, assistant professor of New Testament, to be the hooding speaker. In her remarks, based on the Passover story with the disciples in Luke 22:7-14, she offered graduates a blessing.
"You all came to take your place around the table here three years ago. We needed you here to help us build the table, to help us see who our tables overshadowed, to help us ask difficult questions around our classroom tables, to simply break bread at tables both profane and sacred," she said. "But tonight, we not only honor the table you have built together, but we send you off. We send you off with a reminder that the Gospel story doesn't actually end with Jesus and the apostles taking their place at the table. They came together for a fleeting moment of Jesus' last supper. They went off to the trial and the crucifixion and the resurrection. And from there, those apostles went off to build tables all around the world. So, go build us some tables and if they aren't working build some more."
During the ceremony, Gail R. O'Day, Dean of the School of Divinity, recognized faculty member Christopher T. Copeland, director of leadership development and spiritual life and assistant professor of the practice of spirituality, who has been conferred the Doctor of Ministry degree from San Francisco Baptist Theological Seminary.
At Monday's university ceremony keynote speaker Jon Meacham, Pulitzer Prize-winning author and presidential historian, told the class of 2017 to reflect on the past, but also challenged them to make history. "We look back in order to summon the strength and courage to move forward," he said. "We do this collectively; and we do so in our individual lives, too."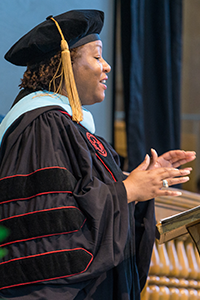 At the School of Divinity's diploma ceremony that immediately followed the all-University festivities on Hearn Plaza, Associate Dean of Admissions and Student Services Shonda Jones offered graduates a charge, referencing Acts 4:14-16.
"As you go about being and doing good in this world as agents of justice, reconciliation, and compassion, know that you will be questioned, you will be challenged, you will be misunderstood. Some will mistake you as being 'ordinary,'" she said. "But do not shrink. Do not cower because you know by whose authority and by what name you will heal the sick, feed the hungry, give drink to all who thirst, welcome the stranger, clothe the poor, visit those who are not well, and work to set prisoners free."
Naming several of the vocations graduates will pursue, Jones continued her charge. "You know by whose authority you will sit and pray at the beside as someone's chaplain, spit rhymes and create poetic lines for justice, enter doctoral programs, get your footing as a new pastor, learn what it means to work on a church staff, to work as a counselor able to integrate spiritual matters, feed more people to reduce hunger and food insecurity, and to continue to search for opportunities that allow you to live out your vocation."
Congratulations to the Class of 2017!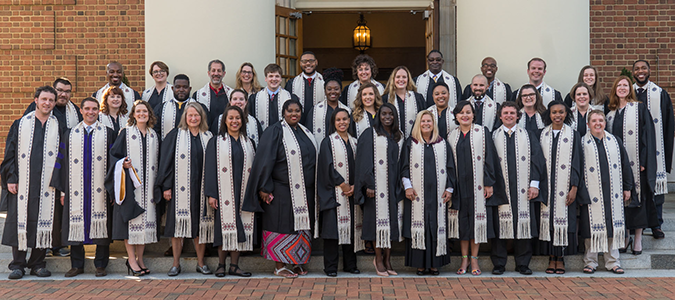 Links of Interest
Video: "My Gladness: Celebrating the Class of 2017"
Categories: Current Students, News
Recent Posts
June 1, 2023

May 19, 2023

April 5, 2023