Main Content
by Erica Saunders (MDiv '19), Office of Communications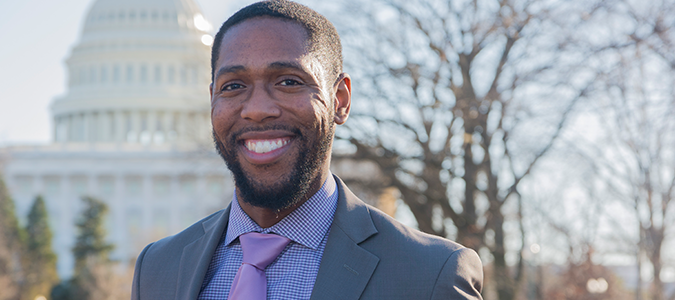 Name: Darrell Hamilton
Hometown: Edmond, Ok.
Denominational Affiliation: Baptist
Before attending Wake Forest University School of Divinity, Darrell received a Bachelor of Arts in political science from the University of Central Oklahoma and served his church as an associate minister. He describes his path to Wake Divinity as "providential," discovering it during a visit to the School of Business.
What's the best advice you have been given during your time at Wake Div? Now that you're graduating, what would you tell your first-year self starting out?
The best advice I was given was to trust the transformative process and to hold tight to my Jesus while at the same time allowing myself to look at him in new and renewed ways. If I could go back, the best advice I would have told my first-year self would have been to also trust yourself and to trust the path that God has placed you on. Do not stress too much and allow yourself the room and the grace to be authentic.
What are some of your accomplishments or community service you've been involved with?
For two and a half years I worked as a graduate assistant for the Campus Programs and Services Department trying to transform the campus environment and experience students toward more wellness, wholeness, and justice. I have interned for three diverse advocacy organizations whose work ranges from anti-racism advocacy and education, community organizing and activism, and litigation and public policy. Additionally, I have served as a pastoral assistant for children and youth at Peace Haven Baptist Church, vice president and third-year representative for Akoni and member of the University Black Graduate Student Association.
What will you miss most about Wake Div?
What I will miss most is the learning environment at Wake Div. I was fortunate to begin at a time in our university, state and national climate where many conversations were had pertaining to racism, xenophobia and heterosexism. As a result, I was offered the opportunity to hear some of the brightest minds speak on these most pressing issues of our time. Thus, I feel compelled and equipped to launch out on these issues and continue their much-needed debate in the public square.
Who or what has influenced you most during your time at Wake Div? How?
The who's and the what's that influenced me most during my time at Wake Div were undoubtedly all of my professors and teachers who placed a buffet of knowledge at my feet and allowed me to eat my fill. All of my professors from Chris Copeland, Bill Leonard, Melissa Voss Roberts, Derek Hicks, Katherine Shaner, John Senior, Kevin Jung, Neal Walls, Jill Crainshaw, Mark Jensen, Sunggu Yang, and former professor Veronice Miles all were extremely helpful, extremely patient, extremely gracious, and extremely influential in shaping my mind, disposition and character in order for me to be the agent of justice, reconciliation and compassion that I desperately wanted to be. They always had open ears, open offices and open and honest feedback and critique that pushed me toward actualizing my best self. Moreover, without Shonda Jones and her gracious, supportive presence I would have never made it to Wake Div, let alone survived it.
What is your favorite memory from your time at Wake Div?
Without a doubt, my favorite memory from my time at Wake Div was the multicultural context course to Cairo, Egypt, winter 2015 with Dr. Neal Walls. This was my first time ever to leave the country and I went, first, to the motherland.  This was my best memory because here is where my world began to expand in a tangible way. I got to see, experience and feel the truth that my vantage point of the world is not the only reality in the world. I got to climb and touch the pyramids, I got to wake up to Muslim calls to prayer, I got to sail up and down the Nile River and I got to see the feats and accomplishments of people the Western world often views as primitive. Moreover, it was during this trip that I also got to live out a lifelong dream, which was to eat pasta on the Mediterranean Sea. That was experience I am likely to never forget. And I hope to stay in good standing with the university so I can continue to travel on some more.
What does earning this degree mean to you?
What this degree means to me is that I can feel confident in my call and understanding of the Christian faith. I can say confidently that I am called to lead communities toward greater equity, health and wholeness, to promote the importance of diversity and diversification, to advocate for the vulnerable and marginalized, to nurture and shape the religious and moral life of people and communities and to preach the gospel message of justice and liberation to spread a deeper and fuller appreciation of the Christian faith. These were words that I was in constant search for prior to my time at Wake Div. However, now I have picture of my vocation and future that is less fuzzy and I have a clarity on the tools with which I desire to build my future.
What's next? Do you have a job/vocational plan lined up?
Right now, my prayer is two old: not to be homeless and to be in a position that I can progress with the knowledge, relationships and passion that I have made here to impact the ways people think and to do that which God has ordained me to do. I made it here on God's grace and it is with God's grace that I am forced to leave.
Other Class of 2017 Graduate Features
Photo Credit: Baptist Joint Committee for Religious Liberty
Categories: Current Students, Graduation, News
Recent Posts
June 1, 2023

May 19, 2023

April 5, 2023