Main Content
by Erica Saunders (MDiv '19), Office of Communications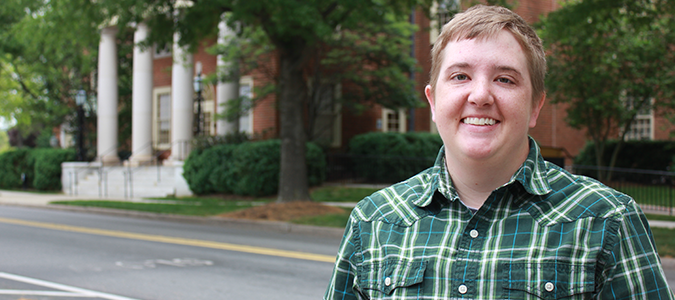 Name: Courtney Dutton
Hometown: Abingdon, Va.
Denominational Affiliation: None
Before attending Wake Forest University School of Divinity, Courtney earned a Bachelor of Science degree in criminal justice and a Bachelor of Arts degree in Christian studies with a minor in history from Bluefield College. She also served as an AmeriCorps VISTA at Bluefield College for a year, worked as a Big Zip line operator for the Boy Scouts, and worked as a long-term substitute teacher. As soon as Courtney set foot in Wingate Hall, she knew Wake Div's "diverse and hospitable environment" was for her.
What's the best advice you have been given during your time at Wake Div? Now that you're graduating, what would you tell your first-year self starting out?
During first year orientation, a third year encouraged us to take advantage of the joys of Aldi and Goodwill—I am pretty sure this is some of the best advice I've received during my time at Wake Div. Now that I am graduating, I would tell my first-year self to live in an apartment complex serviced by a campus shuttle.
What are some of your accomplishments or community service you've been involved with?
At the moment, I am most proud to have been on the planning committee for the first School of Divinity hosted Safe Zone Training!
What will you miss most about Wake Div?
I will most miss going to class (minus the homework) and seeing my Wake Div colleagues on a regular basis.
Who or what has influenced you most during your time at Wake Div? How?
Personhood and Presence by Ewan Kelly, a book I read for the requirements of Dr. Mark Jensen's pastoral care course, has influenced me the most during my time at Wake Div because it challenged me to rethink the ways in which I understand myself and engage with others. Reading this book, along with experiencing genuine community in Wake Div, encouraged me to share life with my newfound Wake Div friends.
What is your favorite memory from your time at Wake Div?
I have so many favorite memories from my time at Wake Div. I believe that my favorite of the favorites comes from my first day of classes. I was sitting in Dr. Neal Wall's myth and scripture course and, as the only first year in the class, thinking about how close everyone else seemed while I did not know anyone. As I was contemplating this, a third year walked up to me, stuck out her hand, said, "Hi, I'm Courtney," and proceeded to invite me to Burke Street Pub, a place where a group of Div School folk hang out on Tuesdays.
What does earning this degree mean to you?
To me, earning this degree means that I have taken three years to deeply engage with a group of people in faith seeking understanding and have discovered many topics and individuals who complement my own (self-)understandings and many others with whom I share dissonant ways of understanding and being.
What's next? Do you have a job/vocational plan lined up?
Ahhh, what's next. Good question. I have a list of towns and cities in West Virginia where I would like to live for the next decade or so, and I am in the process of applying for many jobs in those areas, mostly at colleges and universities in the field of student services. Asheville and Boone are also on the list.
Other Class of 2017 Graduate Features
Categories: Current Students, Graduation, News
Recent Posts
June 1, 2023

May 19, 2023

April 5, 2023