Main Content
by Erica Saunders (MDiv' 19) and C. Mark Batten, Office of Communications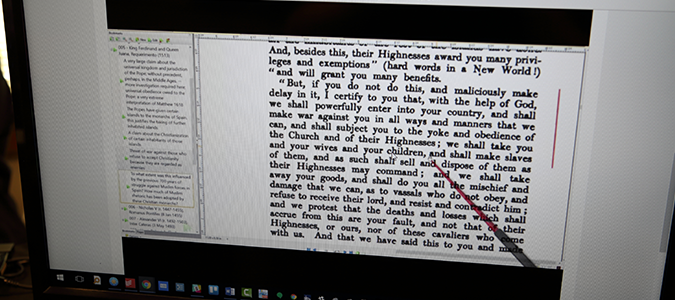 Erik Estrada, postdoctoral teaching and research fellow in early and medieval Christianity, recently delivered a presentation to Wake Forest University faculty and staff on the subject of leveraging technology in teaching to foster student engagement.
Estrada also recently participated in TechXploration, a conference hosted by Wake Forest University Information Systems. TechXploration is a symposium that brings together faculty and staff to share their experiences with current technology efforts. The event showcases how technology is being leveraged in teaching, learning, research, engagement, and creative endeavors at the University. Estrada and other faculty and staffer were invited by Mur Muchane, the University's associate vice president for information technology and chief information officer.
"I rely heavily on technology as a means to increase student participation and learning," said Estrada. "I thought that the TechXploration event would be a nice venue to share some of the things I do with students on a weekly basis."
The title of Estrada's presentation was "Engaging the Christian Tradition through Flipped Learning and Google Classroom."  In the flipped learning model, students complete digital assignments before class, perhaps through guided reading or video viewing, and use class time to discuss their comprehension of the material.
As part of his implementation of the flipped classroom, Estrada often creates screen-capture videos introducing class readings, highlighting key passages in the documents for students to consider prior to class. In the classroom, Google Classroom and Google Docs foster conversation among students. "The opportunity for students to write down their thoughts and perceive in real time how their classmates are understanding a document gives them the confidence to express their perspectives," he said.
"At first I was pretty skeptical of using technology in a lecture-driven learning environment.  Outside of traditional digital portals, such as Blackboard and Sakai, I found myself not very fond of the dysfunctional rhythm those portals tend to create," said first-year Master of Divinity student Devin Stewart, who has taken classes with Estrada. "After taking courses which featured flipped learning methods, I found myself more prepared for classroom lectures and more engaged in assignments."
"Additionally, real-time digital classroom discussions have allowed me to participate in lecture sessions, even while traveling," he continued. "I've been able stay abreast of the coursework, and have returned to classroom sessions in-person without missing any significant information."
"The benefits of using technology in the classroom are manifold. The challenges of using technology in the classroom are likewise manifold," Estrada said. "But overall, the benefits offered by technology far outweigh the challenges."
Coming away from the event, Estrada has learned about other ways he might incorporate technology into his pedagogy. Over the summer, he plans to research these methods and connect with other Wake Forest faculty and staff to discuss these options.
"I am very grateful that Wake Forest University takes very seriously the teaching of its students," he said. "From winning national awards for teaching to continually improving student learning in classrooms, Wake Forest strives to provide college students the best possible education it can offer. The TechXploration event is but one testimony to that larger goal."
Estrada believes events like Wake Forest's TechXploration are great opportunities for learning about emerging classroom technologies that are available to increase student learning and engagement. "Attending such events gives me more inspiration to innovate in the classroom and to find new ways to cultivate deeper thinking in my students."
Photo Credit: Jeremy Kindy, Information Systems (top)
Recent Posts
June 1, 2023

May 19, 2023

April 5, 2023