Main Content
by Hilary Floyd, Office of Community and Lifelong Learning, and C. Mark Batten, Office of Communications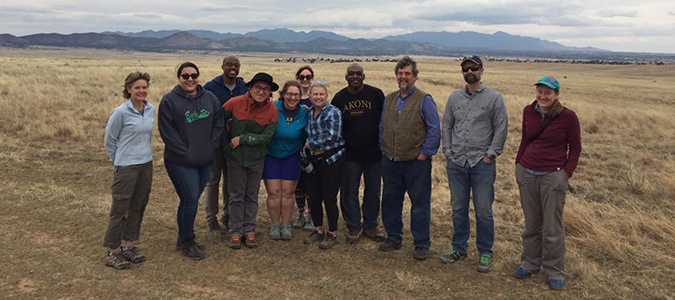 Along the Arizona-Mexico border, each new day brings familiar rituals. Along rugged paths under scorching heat, volunteers leave gallon jugs of water in strategic places, hoping to help desperate migrants stave off dehydration and death. Along busy roadways as well as some of these same rugged paths, border patrol guards work under the same glaring sun to try to keep people from entering the country illegally. Another daily ritual is enacted as trucks bring freshly harvested fruit and vegetables across the border, making their way to American grocery stores and eventually American homes and dinner tables.
The borderlands region of southern Arizona is a complex ecotone – a meeting place between two ecosystems – known for its stunning diversity of cultures, religions, and ecology. It is also fraught with challenges that include tense debates about immigration policy, hotter and drier summers due to climate change, and food insecurity among migrants and indigenous peoples. During spring break, School of Divinity faculty and students traveled to the Arizona borderlands to learn first-hand about how churches are addressing these issues as well as how Christian desert spirituality might speak to this context.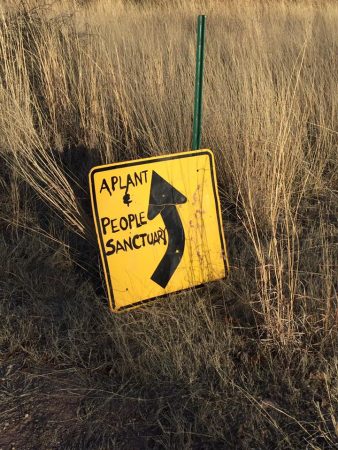 Fred Bahnson, director of the Food, Health, and Ecological Well-Being Program at the School of Divinity, led the group of eight students as they visited the border wall, met with humanitarian organizations, observed deportation hearings, and experienced field restoration work. They were hosted by Dr. Gary Nabhan, the W.K. Kellogg Endowed Chair in Sustainable Food Systems at the University of Arizona Southwest Center and Franciscan lay brother. Through carefully curated site visits, Nabhan introduced students to key actors in the region who are confronting immigration, climate change, and food security.
As she reflected on the trip, second-year Master of Divinity student Laurie Kenyon articulated the often hidden tension that she observed. "We saw just how easy it is for food to cross the border, and at times it was an excess of produce that ends up being wasted," she said. "Yet, somehow, it is impossible for people to cross over into our country without the many difficult and expensive hurdles of our immigration policy. It's like we're saying to the undocumented: we want your food, your livelihood, and your cheap labor, but we don't want you."
Travel to the Arizona borderlands throws the complexity of these issues into sharp relief. As students met with leaders from organizations such as Kino Border Initiative, Nogales Community Food Bank, and No More Deaths, they had an opportunity to see how some churches are responding to these immense challenges.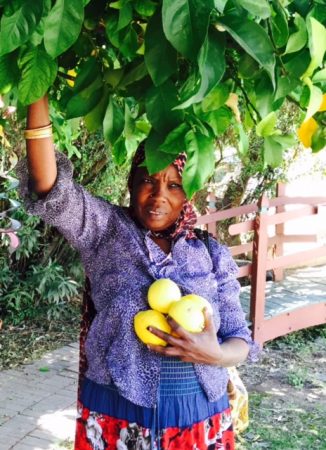 "Both Kino Border Initiative and No More Deaths have been criticized by opponents of immigration," Bahnson noted. "Yet both stand firm in their Christian witness that each person, regardless of legal status, is created in the image of God. Each person deserves to be treated with dignity."
Through travel courses like this one, the School of Divinity seeks to help students connect what they learn in the classroom with the lived realities of those in vastly different contexts. "This kind of immersion education is invaluable for future religious leaders," notes Bahnson.
This particular travel course was made possible through a grant from the Shield-Ayers Foundation. "We are very grateful to the Shield-Ayers Foundation for supporting such an important educational opportunity," said Bahnson.
Third-year Master of Divinity student Beth Barksdale's sums up the groups' experiences during the travel course. "The stories of those we met, the work of those who serve, and the images of a living history deepened my sense of social responsibility and commitment to embody hospitality."
Categories: News
Recent Posts
June 1, 2023

May 19, 2023

April 5, 2023