Main Content
by Hilary Floyd and Mark Batten, Office of Communications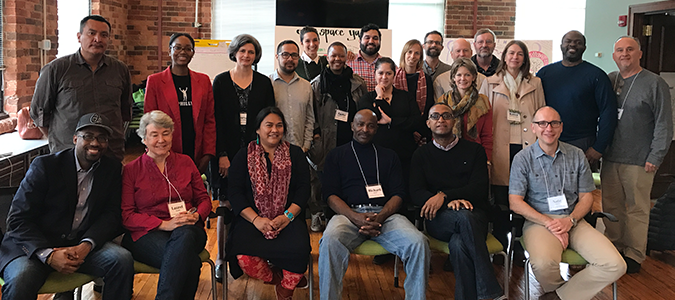 From March 29-31, 2017, the Wake Forest University School of Divinity's Food, Health, and Ecological Well-Being Program and the Forum for Theological Exploration convened a gathering of diverse leaders working at the intersection of food, justice, health, and ecological well-being from across the country for structured conversation and intentional network building. Participants included leaders in theological education, community organizers, church and ministry leaders, and farmworker and food worker justice advocates.
The gathering, titled "Tending the Field," was led by Fred Bahnson, director of the Food, Health, and Ecological Well-Being Program at the School of Divinity, and Matthew Williams, vice president of strategic initiatives for the Forum for Theological Exploration.
Fred Bahnson noted that the theme of the gathering, "Tending the Field," found expression in three movements: mapping the ecology in the room, or the relationships and connections among the varied leaders and their organizations; exploring the root systems, or underlying values that guide their work; and nurturing the soil, by thinking about ways to support one another's work and share meaningful information for growth.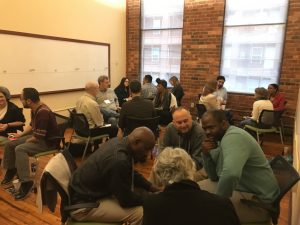 Participants included leaders from the Black Church Food Security Network (Baltimore, M.D.), Drew Theological School (Madison, N.J.), Church of the Woods (Canterbury, N.H.), Princeton Theological Seminary (Princeton, N.J.), the Institute for Tribal Environmental Professionals (Flagstaff, A.Z.), Bartimaeus Cooperative Ministries (Oak View, C.A.), the Food Chain Workers Alliance (Los Angeles, C.A.), and several others. View the full list of participants and their bios »
Just as the root systems in a forest provide collaboration and nourishment for the growth of a variety of trees, this gathering provided meaningful connection for leaders who are often isolated in their work.
"This is a gathering whose time has come," said Matthew Williams. "We can work together, standing shoulder to shoulder to amplify shared perspectives and our collective voice."
In reflecting on the gathering, Bahnson said "We need to not only create resilient ecosystems and food systems; we also need to create resilient networks of faith leaders who work on these issues."
Learn more about the Food, Health, and Ecological Well-Being and join us in this work.
Categories: News, Religious Leadership and Food, Health, and Ecology, Special Events
Recent Posts
May 19, 2023

April 5, 2023

March 21, 2023