Main Content
by Erica Saunders (MDiv '19)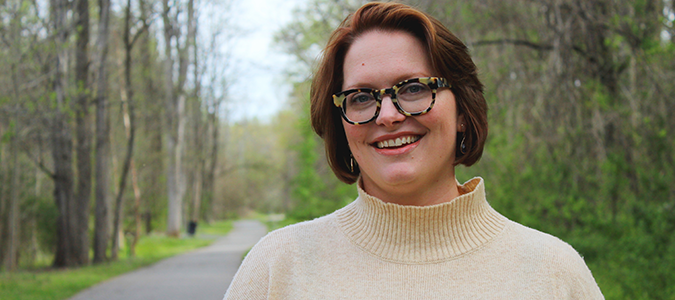 Name: Nicole Newton
Hometown: I was born in Gainesville, Fla., but I was raised in Norwood, N.C.
Denominational Affiliation: Presbyterian Church (USA)
Before attending Wake Forest University School of Divinity, Nicole earned a Bachelor of Arts with a major in English and minors in American studies and technical writing from the University of North Carolina at Charlotte and taught high school English in Norwood, N.C. She transferred from another seminary to Wake Divinity because of the diversity of faith traditions represented and the warm welcome she received from staff during a visit.
What's the best advice you have been given during your time at Wake Div? Now that you're graduating, what would you tell your first-year self starting out?
Go to chapel and therapy regularly—especially if you think you don't need it. I wouldn't have made it through the last three years without both! Other than that, I would say that the most important thing is to show up and be authentic. Get comfortable with being uncomfortable.
What are some of your accomplishments or community service you've been involved with?
I traveled to Budapest last summer to serve on a team doing an interfaith summer camp for refugee children being rehomed in Hungary. That experience deeply changed me. I've also had the opportunity to be an Emerging Religious Leaders Fellow with the Shoulder-to-Shoulder campaign and to preach for the Academy of Preachers National Festival.
What will you miss most about Wake Div?
Chapel. You just don't find worship that is so varied and diverse like that anywhere else. Also, community. The friendships I've developed here have carried me through three of the toughest years of my life. I am so grateful that our school is so invested in building community!
Who or what has influenced you most during your time at Wake Div? How?
CPE was the single most formative experience of my div school career—no doubt about it. The time that I spent with our cohort, with patients and families and the supervision that I received from Dr. Jensen were all integral parts in my coming to know myself as a called and beloved creation of the holy.
What is your favorite memory from your time at Wake Div?
The retreat for our discernment class with Professor Chris Copeland. I experienced God in ways that completely rocked my world that weekend!
What does earning this degree mean to you?
It means that I worked harder than I have ever worked for anything in my life over the past three years. It means I learned to be brave, to show up, to be real, to care for others and to let myself be cared for and seen in new and powerful ways.
What's next? Do you have a job/vocational plan lined up?
I do! I will continue my work at Myers Park Presbyterian Church in Charlotte, NC as Elementary Ministry Coordinator. I'll take on the new Eleanor Belk Internship there, as well.
Other Class of 2017 Graduate Features
Categories: Current Students, Graduation, News
Recent Posts
June 1, 2023

May 19, 2023

April 5, 2023