Main Content
by Erica Saunders (MDiv '19)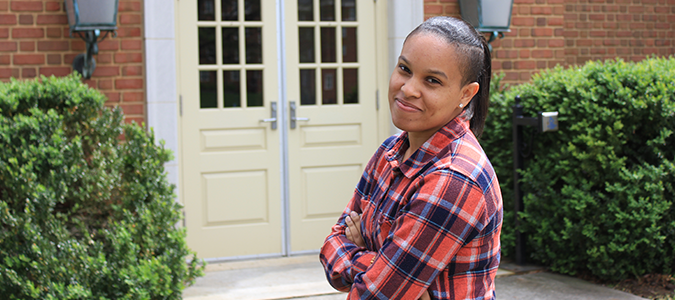 Name: Demi McCoy
Hometown: Upper Marlboro, Md.
Denominational Affiliation: Progressive National Baptist Convention (PNBC)
Before attending Wake Forest University School of Divinity, Demi earned a Bachelor of Arts degree in Religion from Pepperdine University. A freelance spoken-word artist, Demi came to Wake Div seeking to explore the art and science of biblical interpretation in new and fresh ways with the hope of enhancing others' spiritual lives.
What's the best advice you have been given during your time at Wake Div? Now that you're graduating, what would you tell your first-year self starting out?
The best advice I was given during my time at Wake Div was to "get to know the faculty." I heeded such advice and I have tremendously benefitted from the rapport I have with many of the faculty members at Wake Div. Each professor, in their own way, has taken the time to pour into my life and to affirm my gifts and endeavors. They have aided me in my continual meaning-making. They have also provided me with opportunities to grow as a professional in multiple fields.
What are some of your accomplishments or community service you've been involved with?
For the past two years I have worked with Emmanuel Baptist Church as a preaching intern. Not only have I had multiple opportunities to preach, but I was also awarded their Excellence in Ministry Award. Additionally, I have received a nomination from Wake Divinity for the Baptist Women in Ministry Addie Davis Excellence in Preaching Award. Moreover, I was recognized as one of the 2016 New Faces of Ministry by the Center for Faith and Learning.
What will you miss most about Wake Div?
I will miss the community and its ethos of justice. Being in a faith community that truly affirms justice for all is unfortunately rare, and I will miss that most about Wake Div.
Who or what has influenced you most during your time at Wake Div? How?
I have been influenced most by this community's affirmation of my authentic self. It has allowed me the freedom to mature into the woman that I never had permission to become. I am grateful for such flourishing.
What is your favorite memory from your time at Wake Div?
My favorite memory at Wake Div is, by far, the culmination of opportunities I have been given to perform hip-hop and spoken word both inside and outside of the classroom. These opportunities have aided my development as an artist and given me the confidence I need to take my voice and use it for social change.
What does earning this degree mean to you?
Earning this degree is incomparable to how the process has shaped me. Wake Div was never about a degree for me. In fact, it has always been about the opportunity to learn and explore my vocational leanings. The experience I have been immersed in for the past three years is priceless. The degree itself, while it is a recognizable milestone in society, does not even begin to capture the abundance of resonant wisdom I have encountered.
What's next? Do you have a job/vocational plan lined up?
In the future I will be embarking on enticing entrepreneurial endeavors as an artist, activist, and agent. I will continue to publish, perform, and proclaim as long as I have the ability to do so.
Other Class of 2017 Graduate Features
Categories: Current Students, Graduation, News
Recent Posts
June 1, 2023

May 19, 2023

April 5, 2023