Main Content
by Erica Saunders (MDiv '19)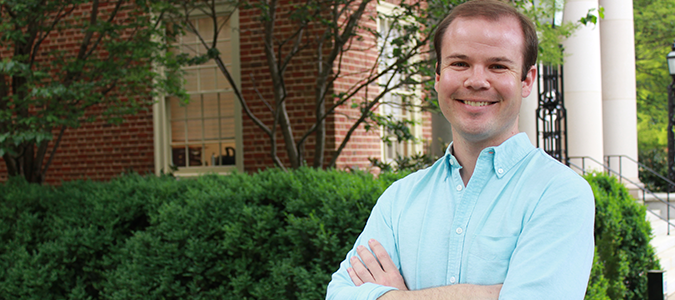 Name: Brian Hollingsworth
Hometown: Raleigh, N.C.
Denominational Affiliation: Baptist—Cooperative Baptist
Before attending Wake Forest University School of Divinity, Brian earned a Bachelor of Arts degree in Psychology and Religious Studies from the University of North Carolina at Chapel Hill and worked full-time for six years as the camp director at Camp Oak Hill and Retreat Center, an overnight Christian camp in Oxford, N.C. He came to Wake Divinity "to learn from stories, perspectives, and ideas that were different from my own" and to "be challenged to think and see my faith and the world differently."
What's the best advice you have been given during your time at Wake Div? Now that you're graduating, what would you tell your first-year self starting out?
The best advice I've received has been to "try it out." If there's a subject, a class, or an area of study that I'm interested in, I've always been encouraged to "try it out." In other words, I've been encouraged to explore new possibilities. The advice I would give to my first-year self is to just be yourself, and share your gifts and talents with others.
What are some of your accomplishments or community service you've been involved with?
My experience in the Food and Faith concentration has really enriched my theology and my understanding of community. I especially loved the week I spent at a Jewish farm and retreat center in Connecticut as part of the "Roots & Branches" course. I've also found my participation and leadership on the worship planning committee to be very rewarding.
What will you miss most about Wake Div?
The community! I can only hope to be part of another community that is so wonderfully and beautifully diverse and encouraging.
Who or what has influenced you most during your time at Wake Div? How?
That's a tough one. I'm going to have to say, again, the community! Everyone here—professors, faculty, staff, and students—all bring with them a unique story and a diversity of beliefs and practices. It's been so enriching to learn and worship alongside such a wonderful and diverse group of people.
What is your favorite memory from your time at Wake Div?
As a whole, community worship will be what I remember most about my time at Wake Div. It's been a staple in my weekly schedule, and one of the most nurturing, challenging, and life-giving experiences of my time here. In all the busyness craziness that can define divinity school, bi-weekly community worship has kept me grounded more than anything else.
What does earning this degree mean to you?
Earning this degree means that in many ways I'm a different person than I was three years ago, yet the same calling that began this journey—to make known and make space for God's love, goodness, and abundance in our world—is still the same, only renewed and strengthened for the continued journey ahead.
What's next? Do you have a job/vocational plan lined up?
 I'll be doing a CPE Residency at UNC Hospitals in Chapel Hill. I hope to eventually work in chaplaincy and/or spiritual direction and discernment, hopefully in an educational setting.
Other Class of 2017 Graduate Features
Categories: Current Students, Graduation, News
Recent Posts
June 1, 2023

May 19, 2023

April 5, 2023