Main Content
by Erica Saunders (MDiv '19), Office of Communications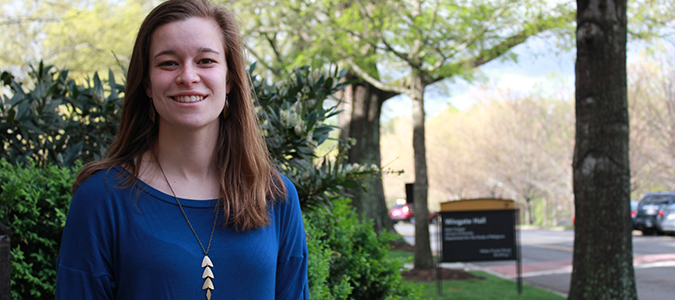 Name: Athena Bless
Hometown: Asheboro, N.C.
Denominational Affiliation: Evangelical Lutheran Church in America (ELCA)
Before attending Wake Forest University School of Divinity, Athena received a Bachelor of Arts degree in religion and philosophy from Catawba College. The "diversity, ecumenical approach, and welcoming community" she witnessed during a visit drew her to Wake Divinity.
What's the best advice you have been given during your time at Wake Div? Now that you're graduating, what would you tell your first-year self starting out?
The best advice that I have been given was that setting boundaries is not mean, but an act of grace. I would tell my first-year self to be involved with the community and to breathe, take it all in and enjoy every minute.
What are some of your accomplishments or community service you've been involved with?
I am the Third Year Representative on the Student Leadership Council (SLC,) I have coached soccer at a local high school, and I have been involved with Augsburg Lutheran Church in Winston-Salem.
What will you miss most about Wake Div?
I will miss the community aspect joining together every week for chapel and community lunch.
Who or what has influenced you most during your time at Wake Div? How?
I have been influenced by so many people both professors and colleagues, but those who influenced me most are the ones who have challenged me.
What is your favorite memory from your time at Wake Div?
My favorite memories come from study groups first year with people who grew to be some of my closest friends.
What does earning this degree mean to you?
Earning this degree means a lot to me, especially considering the growth and personal challenges I have undergone in my three years as a student. This degree means another step towards my ordination, but it also means that I have had the honor of learning from, with, and alongside some incredible people.
What's next? Do you have a job/vocational plan lined up?
In August, I will be getting married and moving to California for my Lutheran year of seminary in continuing on the ordination track.
Other Class of 2017 Graduate Features
Categories: Current Students, Graduation, News
Recent Posts
June 1, 2023

May 19, 2023

April 5, 2023