Main Content
by Erica Saunders and C. Mark Batten, Office of Communications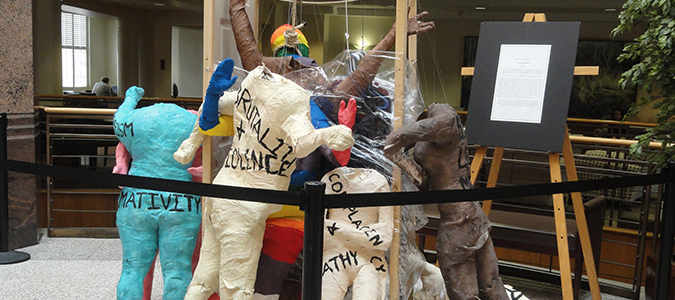 A sculpture created as coursework by third-year Master of Divinity student Courtney Dutton was displayed in Benson University Center on the Wake Forest campus from Feb. 22 – March 1 during the ACC Student Leadership Symposium.
The multimedia sculpture, Closeted Humans, uses plaster mannequins to depict people who cannot live as their full selves attempting to escape from a plywood closet upheld by mannequins labeled "brutality & violence" and "complacency & apathy" with a door held shut by embracing mannequins bearing the labels "heteronormativity" and "cisgenderism."
Dutton made the sculpture for the class, Prophetic Ministry: Public Witness, Protest Arts, and Preaching, taught by Dr. Sunggu Yang, Louisville Postdoctoral Fellow in Preaching and Worship. After reading an article describing the plight of the closet in the Journal of Experimental Psychology and seeing a photo in a textbook, Dutton decided she wanted her artwork to portray the physical and emotional burdens experienced by many queer people who do not or cannot consistently reveal their identity. The sculpture made its debut during the Festival Week of Prophetic Ministry held in Nov. 2016.
"The topic appealed to me because I believe many straight and cisgender people are unaware of the far-reaching negative effects of inhospitable environments," Dutton said. "I wanted to create something that would start conversations among people who probably would not encounter the article or engage their queer friends; my hope was to reveal some of the struggles my queer friends and I experience."
Dutton believes that the atmosphere of the School of Divinity and classes with Yang have not only fostered her creativity, leading her to explore her talent for visual art, but also taught her the power of art.
"It taught me that I can utilize this to make statements that I otherwise generally do not have the courage or platform to express," she said. "Art is a method of bringing issues to the attention of people who might not otherwise encounter or be open to hearing certain ideas." Other exercises of the prophetic voice can "turn people away, particularly people who have had negative experiences with such in the past, and generally must be encountered in their entirety, which is not always repeated to multiple audiences, in order to make sense," she continued. "Art, on the other hand, is much more approachable and can be encountered in whole or in part again and again as long as it is displayed, both in its original and recorded forms."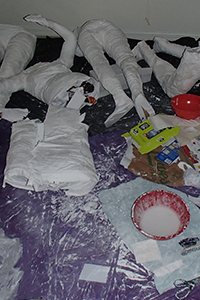 The process of making the sculpture felt overwhelming, Dutton said. She informally dubbed it "the project that never ends."
Dutton used about 50–60 pounds of Activia rigid plaster wrap to model her mannequins after human models. Models applied petroleum jelly to any exposed skin and covered their clothes with plastic cling wrap before she wrapped the models' legs with the plaster cloth, used a hairdryer to speed up the drying process, and cut the plaster down each side. She repeated the process for the torso, cutting down the back, and the arms. Each part dried for a couple of days before being stuffed with recycling paper or light cardboard and re-plastered over the cuts. As the body parts hardened, she plastered them together and let them dry for a couple of days. Once the mannequins had set, she spray-painted the solid-colored mannequins and painted the rainbow people by hand using standard acrylic paints.
After the Festival Week of Prophetic Ministry, Dutton wanted to share her message with others. With the help of Shayla Herndon of the University's Office of Inclusion and Diversity, she met with Benson staff who offered to display the piece for February's conference.
The next stop for Closeted Humans is the "Unreasonable Fears" exhibit in Salisbury, N.C. After that, Dutton plans to disassemble the mannequins for storage and use them in new art projects with a new message.
#gallery-1 {
margin: auto;
}
#gallery-1 .gallery-item {
float: left;
margin-top: 10px;
text-align: center;
width: 50%;
}
#gallery-1 img {
border: 2px solid #cfcfcf;
}
#gallery-1 .gallery-caption {
margin-left: 0;
}
/* see gallery_shortcode() in wp-includes/media.php */
Categories: Current Students, News
Recent Posts
June 1, 2023

May 19, 2023

April 5, 2023