Main Content
Rev. Ginny Tobiassen, pastor of Home Moravian Church in Winston-Salem, will speak and lead community worship at Wake Forest University School of Divinity on Tuesday, March 28 at 11 a.m. in Davis Chapel, located in Wingate Hall.
Later in the afternoon, Rev. Tobiassen will host an information session to discuss ministry opportunities, networking, and more within the Moravian tradition. The conversation will take place at 12:45 p.m. in Room 107B of Wingate Hall.
Rev. Tobiassen's visit is part of a series of Denominational Days hosted annually by the Office of Leadership Development and Spiritual Life at the School of Divinity. Denominational Days offer students connections to denominational clergy and leaders, and provide resources about a denominational tradition as students discern their vocational options.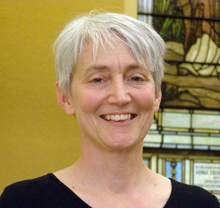 Rev. Tobiassen has served at Home Moravian since 2013 as an associate pastor. Earlier this year she was installed as pastor. Rev. Tobiassen also serves on the Salem Congregation Board of Elders, chairs the Interprovincial Board of Communication, and is an adjunct instructor at Salem College. She is the author of two books, Am I Glowing Yet? Understanding and Coping with the Common and Not-So-Common Miseries of Pregnancy (Chicago Review Press, 1995) and The Gift of the Magi Retold in Rhyme (The Ashe Street House, 2002).
Tuesday's events are open to the all. Seating may be limited and available on a first-come, first-served basis. Parking is available in several visitor lots – including lots C, M, and Q – on Wake Forest's campus.
For more information, contact Sarah Parker, leadership development assistant.
Categories: Current Students, Media Advisory, Spiritual Life
Recent Posts
March 21, 2023

February 16, 2023

February 2, 2023