Main Content
by Erica Saunders (MDiv '19), Office of Communications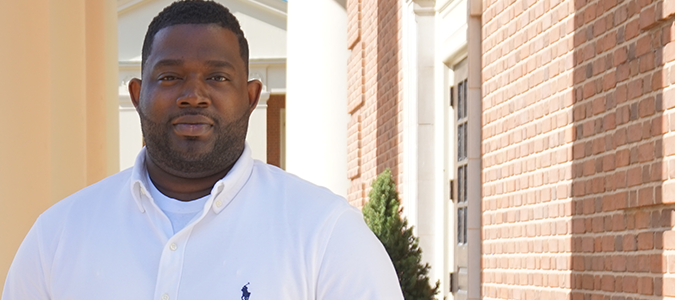 Name: Kedrick Clark
Hometown: Winston-Salem, N.C.
Denominational Affiliation: Nondenominational
Before attending Wake Forest University School of Divinity, Kedrick earned a Bachelor of Science in computer science with minors in math and economics from Winston-Salem State University and worked at the Wake Forest Baptist Medical Center delivering food trays to patients. Witnessing the spiritual transformation of a friend who also attended Wake Divinity drew him to the school.
What's the best advice you have been given during your time at Wake Div? Now that you're graduating, what would you tell your first-year self starting out?
The best advice I've been given while at Wake Div was, "Learn how to say no." Life isn't about everything you can do; sometimes it's resting in the moments that you do have.
What are some of your accomplishments or community service you've been involved with?
I've recently had the opportunity to help plant a church in Winston-Salem that's reaching so many people. We've seen tremendous growth, from 40 people to over 700 people. I also had the opportunity to be a part of the 2015 New Faces of Ministry Tour, a program that Wake Divinity is a part of through the Center for Faith and Service. Through this effort, I had a chance to travel the Southwest United States and speak on the importance of young faces in ministry and what is taking place at Wake Divinity.
What will you miss most about Wake Div?
I will miss the invaluable relationships that I've been able to have with each class that has come through since my arrival in 2014. I'll also miss the many conversations that were had in the Grad Lounge about anything and everything.
Who or what has influenced you most during your time at Wake Div? How?
My friends at Wake Div have helped affirm my calling in this space that seems like a mystery at times.
What is your favorite memory from your time at Wake Div?
My favorite memory at Wake Div was when the Rev. Dr. William Barber spoke at Convocation in 2014. It was great to experience and meet someone early on who would become one of North Carolina's biggest leaders and advocates for the equality of all people.
What does earning this degree mean to you?
Earning this degree means being prepared to be an agent of change for people that I encounter every day. Earning this degree is a milestone for my family as I become one of the few men in my family to obtain a master's degree. Also, being a black man from Winston-Salem and graduating from Wake Forest is a major accomplishment.
What's next? Do you have a job/vocational plan lined up?
I plan to continue to be the guest experience director at Elevation Church's Winston-Salem Campus, where I get to help serve and lead our volunteers create a great experience for our guests.
Categories: Current Students, Graduation, News
Recent Posts
June 1, 2023

May 19, 2023

April 5, 2023