Main Content
by Hilary Floyd and C. Mark Batten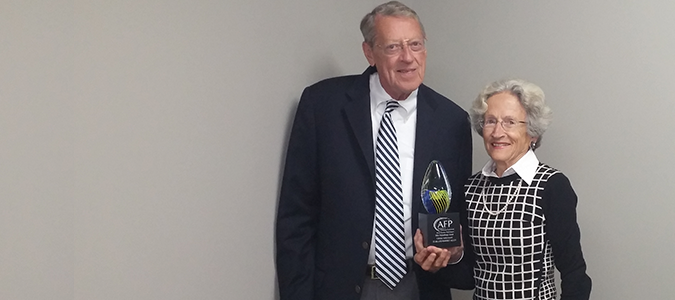 Elms and Harriet Allen recently received the Lifetime Achievement Award from the Association of Fundraising Professionals – NC Triad Chapter. Elms is a member of the Wake Forest University School of Divinity Board of Visitors and current chair of the School of Divinity's Wake Will Campaign. With the help of his leadership during this campaign, the school has achieved its $20 million fundraising goal almost two years ahead of schedule.
The Triad Chapter of the Association of Fundraising Professionals conferred its awards, including the Lifetime Achievement Award to the Allens, on National Philanthropy Day, November 21, 2016. Elms and Harriet's philanthropic efforts include significant support of the United Way of Forsyth County, Samaritan Ministries, Street School, First Presbyterian Church, the Winston Salem Symphony, and the Novant Health Foundation Forsyth Medical Center among many others.
In 2005, the Allens established the Edith and Joseph Hough, Sr. School of Divinity Scholarship in memory of Rev. Joseph Hough, Sr. ('22) and Edith Hough. The fund provides scholarship on the basis of need. Twelve Master of Divinity students at the School of Divinity have received tuition assistance from this fund over the last decade."Always leading by example, Elms continues to give generously of his time, treasure, and talent to many community institutions," said Heather Egan, a development officer at Novant Health Forysth Medical Center Foundation, in her nomination. "He is committed to the success of the organizations he serves through his dedication to mission, passion for 'sharing their story,' and commitment to collaboration and community building."
Elms Allen is a 1962 graduate of Wake Forest University and a 1966 graduate of the School of Medicine. He and his wife have supported Wake Forest for decades, including endowed funds at both the School of Medicine and the School of Divinity. Their support has made it possible for countless students to learn and follow their passions at Wake Forest University.
As a member of the Board of Visitors for the School of Divinity, Elms has provided invaluable leadership to the school as it seeks to live into its mission to equip students to be agents of justice, reconciliation, and compassion throughout the world.
"Harriett and Elms have had an enormous impact on our community across sectors from social services to the arts to theological education," said Sheila Virgil, assistant dean of development for the School of Divinity. "Wake Forest University is proud to have Elms as a 'Double Deac' and grateful for his leadership on our Wake Will campaign for the School of Divinity."
About the NC Triad Chapter of the Association of Fundraising Professionals (AFP)
The NC-Triad Chapter of the AFP promotes the highest professionalism and accountability in philanthropic fundraising. Members are distinguished by altruistic service to the mission of their organization. With nearly 100 active members, NC Triad AFP hosts monthly topic luncheons and an annual conference. Its membership network offers an impressive depth of industry expertise and peer support. afptriadchapter.org
Recent Posts
June 1, 2023

May 19, 2023

April 5, 2023