Main Content
by Erica Saunders (MDiv '19) and C. Mark Batten, Office of Communications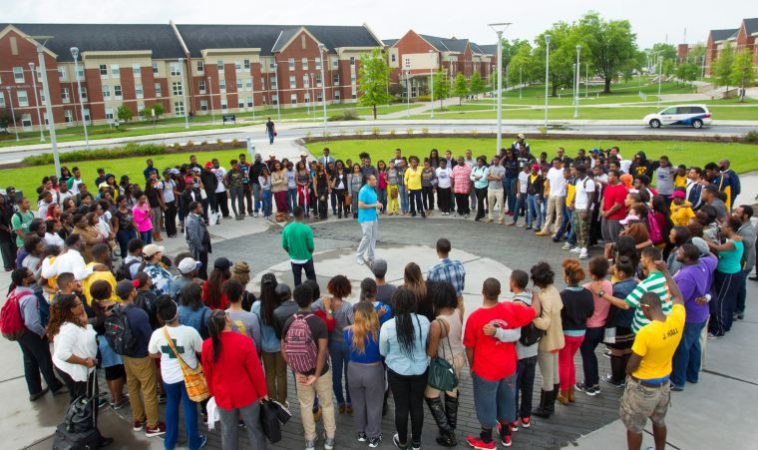 Second-year Master of Divinity student Gregory Drumwright has received a $15,000 grant to investigate the declining rates of religious affiliation among young adults by asking questions like, how does the church listen to and learn from millennials while offering them the gift of the Jesus story?
The number of Christians in the United States has declined in recent years as the number of those without religious affiliation has grown. According to data collected by the Pew Research Center, [1] 7.8 percent of the population stopped identifying as Christian and 6.7 percent more claimed no affiliation from 2007–2014.  With the support of the grant, awarded by the Pastoral Study Project of the Louisville Institute, Drumwright will research causes of the demographic shift and work with community partners to envision how the Christian Church in the United States might evolve as a result.
Drumwright's research involves three initiatives. Along with the School of Divinity, he will plan and host a two-day conference with future church leaders in the academy to discuss the future of the church. He will work with Interfaith Winston-Salem, an all-volunteer educational group that provides opportunities to gain a greater understanding of and respect for many faith traditions, to host multigenerational listening events. Over the course of fifteen months, he will also observe a congregation that integrates innovative ministry methods into its operation. Drumwright plans to chronicle his research on a website and, ultimately, create a multimedia documentary from his findings.
The School of Divinity supported him at every stage of the grant process. "I am privileged to partner with the School of Divinity and to add to their expansive programming." Drumwright thanks, in particular, Dr. Shonda Jones, associate dean of admissions and student services, for giving him the application and Dr. Bill Leonard, Dunn Professor of Baptist Studies and Professor of Church History, for "playing a key role in encouraging and advising me through the entire process." In addition to providing formal support, he credits the school with helping to shape his ministry more broadly.
"The School of Divinity has broadened my perspective and perceptions of 21st-century ministry by helping me to engage, on a more consistent basis, a diverse amalgamation of people," he said. "Realizing that my future goals are to be effective across ecumenical bonds and divisions, and being here with people from varying faith traditions helps me take steps to reach that goal."
"With this project, I hope to find new methods of sharing the same Gospel to connect millennials with their best life," he added.
In addition to his studies, Drumwright serves as senior minister at the Citadel of Praise Church and Campus Ministries, a multifaceted ministry he established thirteen years ago as an undergraduate student. A 501(c)(3) nonprofit, the Citadel works with community partners to combat homelessness and poverty in addition to nurturing a 200-person congregation of mostly college students. For more information, visit www.citadelofpraise.com.
The Pastoral Study Project of the Louisville Institute awards pastoral leaders grants of up to $15,000 to pursue pressing questions related to Christian life, faith, and ministry. By sponsoring such projects, which involve full or partial leave from job responsibilities, the Institute hopes to foster projects that prove instructive for the wider church, as well as for recipients and their own ministry settings, to the end that the religious lives of North American Christians might be enriched and their congregations strengthened.
About the Louisville Institute
The Louisville Institute is a Lilly Endowment-funded program based at Louisville Seminary supporting those who lead and study North American religious institutions. The fundamental mission of the Louisville Institute is to nurture inquiry and conversation regarding the character, problems, contributions, and prospects of the historic institutions and commitments of American Christianity. louisville-institute.org
About the Wake Forest University School of Divinity
The Wake Forest University School of Divinity is a dynamic and ecumenical theological institution that prepares men and women to be religious leaders in a changing world. The School currently offers the Master of Divinity degree and several joint degrees in law, bioethics, counseling, education, and sustainability, and a dual degree pathway in management, offered in partnership with other schools of the University. Through imaginative courses and diverse programs of community engagement, students are equipped to be agents of justice, reconciliation, and compassion in Christian churches and other ministries.
[1] http://www.pewforum.org/2015/05/12/americas-changing-religious-landscape/
Categories: Current Students, Grants, News
Recent Posts
June 1, 2023

May 19, 2023

April 5, 2023