Main Content
by Erica Saunders and Mark Batten, Office of Communications
From Nov. 7-10 Wake Forest University School of Divinity hosted the Festival Week of Prophetic Ministry. The festival was designed to deepen student reflection on prophetic ministry and provide a platform for them to exercise their own voices – through preaching, music, and visual art – to consider, experience, and experiment with the practice of social witness and protest arts.
All week, creative and thought-provoking student art displays filled the halls of the School of Divinity's public areas. There were paintings, sculptures, murals, electronic graphic art, music, and interactive displays. Four students were selected to preach prophetic sermons from a wide pool of applications.
Sarah Ogletree (MDiv '19), from Sylva, NC, preached against participation in unjust commercial systems;
Darrell Hamilton (MDiv '17), from Oklahoma City, OK, on the intersection of political action and theological reflection;
Courtney Dutton (MDiv '17), from Abingdon, VA, about the politicization of bodies; and
Brenden Kee (MDiv '18), from Atlanta, GA, on food insecurity.
The festival brought two guests to the community who engaged with students around the art and responsibility of prophetic ministry.
The Rev. Dr. Leah D. Schade, assistant professor of preaching and worship at Lexington Theological Seminary in Kentucky, is the author of Creation-Crisis Preaching: Ecology, Theology, and the Pulpit (Chalice Press, 2015). She led a worship service on Tuesday, Nov. 8, utilizing the liturgical dance gifts of the student group Amazing Grace, on water as an imperiled resource. Schade's teaching and ministry is marked by her experience in and passion for ecological and social justice advocacy and activism. She is an ordained minister in the Evangelical Lutheran Church of America. Schade wrote a reflection about her time with students.
The Rev. Dr. Dale P. Andrews, Distinguished Professor of Homiletics, Social Justice, and Practical Theology at Vanderbilt University, is the author of Practical Theology for Black Churches: Bridging Black Theology and African American Folk Religion (WJK Press, 2002). In his sermon on Thursday, Nov. 10, he recalled the role of persistent hope in the face of struggle and adversity. He is currently researching how to address the challenges facing black prophetic preaching. Andrews is ordained in the African Methodist Episcopal Zion Church.
View videos from the concert »Jazz pianist Harry Pickens headlined a concert, "The Power of Music to Change the World!", as part of the festival on Wednesday evening, Nov. 9. Amidst playing blues, jazz, and hymns, Pickens recited a poem in Christopher Fry's Asleep of Prisoners. "Thank God our time is now when wrong comes up to meet us everywhere, never to leave us, until we take the longest stride of soul men ever took."  Pickens then named the poem's significance for the festival's focus on prophetic ministry. "For only in this moment can we dig deep to the very depth of who and what we are," he said, "and pull from those depths the presence, power, and perfection of God, love, compassion, and justice-making."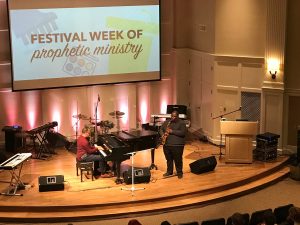 Other performers included School of Divinity students John Kernodle (MDiv '19), Sean McClure (MDiv '19), and Sarah Ogletree (MDiv '19), Wake Forest University's All Male A Cappella Group Chi Rho, liturgical dance by School of Divinity student group Amazing Grace, and The Praise Church of Citadel's Choir, The Singers and Musicians Alive, from Greensboro, NC, under the direction of Gregory Drumwright (MDiv '18).
Dr. Sunggu Yang, Louisville Postdoctoral Fellow in Preaching and Worship, organized the event with the students of a course he taught this semester, Prophetic Ministry: Social Witness, Protest Arts, and Preaching. The goals of the course and event were to provide students with an experience of producing their own prophetic and activist arts. Yang received a grant from the University's Provost Fund for Academic Innovation for the course and festival.
"Several students in my prophetic ministry class, who produced arts and managed the Festival Week, have told me that they now have more courage and spirit to carry out prophetic ministry in their own contexts. They also told me that the whole class has been a prophetic-spiritual formation experience," he said. "I hope the students of the School of Divinity continue to have more prophetic-spiritual formation experiences through other classes and activities. Spiritual formation is one of key purposes of residential seminary education."
Third-year student Courtney Dutton is one of those students.
"Prophetic work is important because people need to be challenged. That's the only way we'll ever grow closer to each other: respecting differences in a diverse, messy unity," she said. "I've felt for about 15 years that I'm called to be a prophet, but I haven't known what that looks like. Last week really helped me to see that prophetic ministry can look like a variety of things. I can write a sermon, but I can also make an art piece or simply be the face of the Divine, in a variety of ways, to people who are struggling."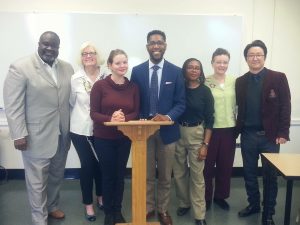 Sarah Ogletree, first-year Master of Divinity student, echoed Dutton.
"Prophetic ministry brings out the Jesus in the church. You have rituals, you have worship services, but if you don't have the all-encompassing, all-powerful and unconditional love of Christ then you don't have it, and your ministry lacks the heart of the gospel," she said. "When the church doesn't take the step to be brave and prophetic, then it has no power. Prophetic ministry is important because it's who we're called to be through the message of Jesus."
Categories: Courses, Current Students, News, Special Events
Recent Posts
June 1, 2023

May 19, 2023

April 5, 2023