Main Content
by Erica Saunders and C. Mark Batten, Office of Communications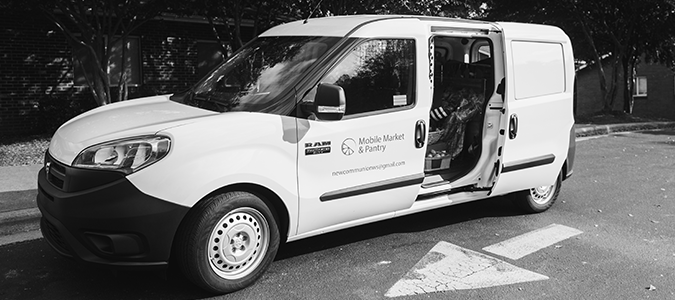 In co-founding New Communion Mobile Market and Pantry, third-year Master of Divinity student Monica Banks channeled her passion for food justice to bring a class project from a hypothetical to reality.
Mark Jensen, teaching professor of pastoral care and theology, teaches Food, Faith, and Health in Community, the introductory course for students who are a part of the Food and Faith or Faith and Health academic concentrations. Both concentrations are designed to aid students in developing strategies so they can lead congregations and communities to embody an integrated ideal of wellness and its connections to public health and faith.
In Jensen's class a major class assignment asks students to use data from real communities to design a plan, with theological rationale, to help their community and so assume the role of religious leader.
Recent Holiday Distribution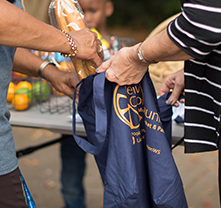 Before Thanksgiving, New Communion partnered with LaDeara Crest Apartments and Wentz Memorial United Church of Christ to distribute more than 200 holiday meal boxes to families. Each box served 8-10 people and included roasting hens, cornbread stuffing, potatoes, frozen vegetables and fruit, pies, and more. More than 200 residents, 3 church buses, and 40 volunteers partnered together to make the Thanksgiving distribution a success.Banks and her group, which included third-year student Nikki Scheidecker, approached Jensen about writing an actual grant proposal to United Way of Forsyth County for their project. Despite a caution that the work required would far exceed course requirements, Banks and Scheidecker drafted and submitted the proposal following United Way requirements, documenting various measures of community wellbeing, including disparities in access to healthcare and food.
In March, United Way awarded the team $80,000 for the 2016–17 fiscal year to fund New Communion Mobile Market and Pantry, a ministry that two to three times a week distributes free food to one of thirteen diverse neighborhoods in Forsyth County on a rotational basis. Local churches, including First Christian Church (Disciples of Christ) and Wentz Memorial United Church of Christ, and local gardens and grocers stock a New Communion van with food to distribute for 80–100 families each week.
"Their project articulated a theological vision and rationale for New Communion rooted in the sources the class had examined, as well as in data about real neighborhoods in Winston-Salem. They also engaged several community partners, forming a cross-city network of collaboration for the sake of neighbors," said Jensen of Banks' proposal. "New Communion is up and going, and engaging partners across the city for the sake of food access, learning as they go and grow. I'm very impressed by Monica's initiative, vision, passion, persistence, and leadership in our community."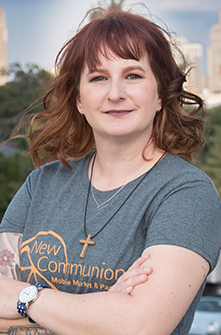 Banks says she came to divinity school to explore a single question: "How does food relate to our faith?" She has come to realize that faith cannot be understood without the lens of food and ecology. This thought along with personal experiences inspire her work with New Communion.
"As a young adult, I was not far from a childhood of poverty and exclusion from many tables of abundance. The idea that this table had no barriers and was a place of abundance for all impacted not only my theology, but also my worldview," she said.
Banks is pleased with New Communion's first months of operation. Through her leadership, ministry, and civic empowerment, she has found a new expression of communion and community.
"We have experienced the Eucharist outside of our walls and have been welcomed into new neighborhoods with diverse faces," said Banks. "Through the ministry of New Communion, we can say that we have truly met our neighbor."
For more information about New Communion or to volunteer, visit www.newcommunion.org or contact Monica Banks at 336.918.7614, First Christian Church at 336.722.2714, or email newcommunionws@nullgmail.com.
Media Coverage
Mobile Food Pantry Grows Out of WFU Class Project (Spectrum News)
(Photos courtesy of Kristi Marie's Photography)
Categories: Community Engagement, Courses, News
Recent Posts
May 19, 2023

April 5, 2023

March 21, 2023