Main Content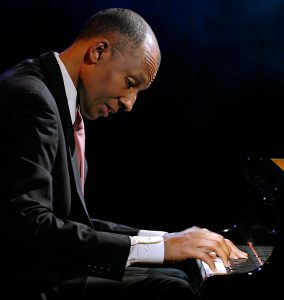 Who: Harry Pickens, internationally renowned pianist and composer, will give a special performance for The Power of Music to Change the World! concert during the Festival Week of Prophetic Ministry. The festival is sponsored by Wake Forest University's School of Divinity. Pickens is an accomplished musician who has collaborated with Curtis Fuller, Kenny Garrett, Dizzy Gillespie, Benny Golson, Charles McPherson, James Moody, and many more. He has performed for dignitaries like His Holiness the Dalai Lama. He currently serves as Artist in Residence at the Kentucky Governor's School for the Arts in Lexington, KY.
"Human beings have the capacity to live as instruments of grace and bringers of joy…. At the very core of our being is a reservoir of joy, of love, of possibility," Pickens once told Kentucky Educational Television (KET).
Other performances include School of Divinity students John Kernodle (MDiv '19), Sean McClure (MDiv '19), and Sarah Ogletree (MDiv '19), Wake Forest University's All Male A Cappella Group Chi Rho, liturgical dance by School of Divinity student group Amazing Grace, and The Praise Church of Citadel's Choir, from Greensboro, NC, under the direction of Gregory Drumwright (MDiv '18). All are welcome for what promises to be an evening of inspirational and creative music.
What: The Power of Music to Change the World! concert is a part of The Festival Week of Prophetic Ministry at the School of Divinity, a week-long event to promote and practice the prophetic spirit. The festival will include guest lectures and praxis of prophetic ministry in various art forms such as a music concert, arts display and preaching. The Festival week is an innovative part of the academic course, Prophetic Ministry: Social Witness, Protest Arts, and Preaching, being offered this fall at the School of Divinity.
When: Wednesday, Nov. 9 beginning at 6:30 p.m.
Where: Kulynych Auditorium of the Porter B. Byrum Welcome Center on Wake Forest University's main campus (1834 Wake Forest Road, Winston-Salem, NC 27106).
Parking: Parking is available at the venue (lots S1 and S2 on campus parking map).
Categories: Media Advisory, Special Events
Recent Posts
June 1, 2023

May 19, 2023

April 5, 2023