Main Content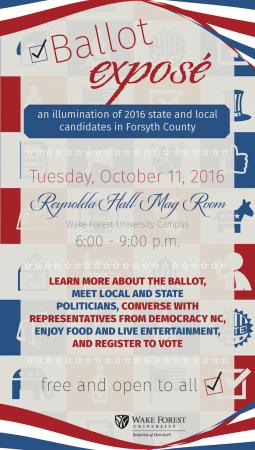 Wake Forest University School of Divinity will host the "Ballot Exposé: An Illumination of 2016 State and Local Candidates in Forsyth County," a free, public event featuring the opportunity to meet local and state politicians on Tuesday, Oct. 11.
The event, which will include food, live entertainment, noteworthy speakers, and voter registration, begins at 6 p.m. in the Magnolia Room of Reynolda Hall on the campus of Wake Forest University (1834 Wake Forest Rd. in Winston-Salem). Speakers include City Council Member Denise D. Adams and representatives from Wake the Vote and other young voter groups. Entertainment will be provided by Wake Forest alumnus DJ Nines and other local artists.
The Ballot Exposé is a festive, fun, and nonpartisan opportunity for voters to become more informed about the local and state candidates that will be on the 2016 Forsyth County General Election Ballot. Democracy North Carolina, a nonpartisan organization dedicated to increasing voter participation and achieving a government that is truly of the people, will also be in attendance.
"In a nation saturated with Presidential media coverage, it is our hope that the Ballot Exposé will help supplement voter knowledge on the local and state level," said event organizer and third-year School of Divinity student Demi McCoy. "This is important because local and state politics greatly influence our daily lives."
Recently named as a Seminary that Changes the World by The Center for Faith and Service, the School of Divinity is committed to educating students to be agents of justice, reconciliation, and compassion.
"Providing this type of informational outlet for the upcoming election puts justice and reconciliation front and center.  Religious leaders and the communities they serve want to move beyond partisan and caustic rhetoric to hearing about the issues that concern us most," said Shonda Jones, who is the associate dean of admissions and student services at the School of Divinity.
Local and state politicians who will be present include Board of Commissioners District B candidates Selester Stewart and Bob Stitcher, City Council Northwest Ward candidate Eric Henderson, House of Representatives District 72 candidate Edward Hanes, Jr., and Court of Appeal Judge candidates Abe Jones, Vince Rozier, and Linda Stephens.
Categories: Community Engagement, Media Advisory, Special Events
Recent Posts
June 1, 2023

May 19, 2023

April 5, 2023