Main Content
by Erica Saunders and Mark Batten, Office of Communications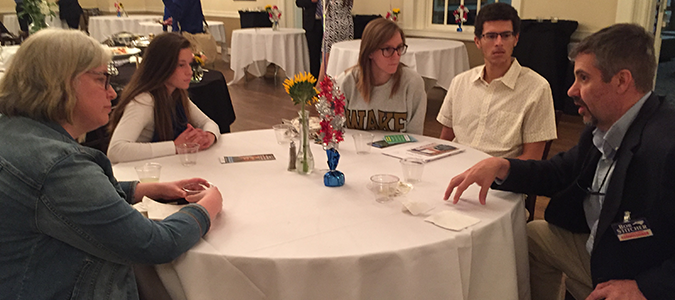 On Tuesday, Oct. 11, the Wake Forest University School of Divinity hosted political candidates listed on the Forsyth County general election ballot to demystify the political process and educate students and community members.
Throughout the evening, Wake Forest students and members of the public came to the Magnolia Room in Reynolda Hall to meet candidates, ask questions and register to vote as part of the "Ballot Exposé: An Illumination of 2016 State and Local Candidates in Forsyth County" event. The Exposé was organized by third-year student Demi McCoy.
"This is important because local and state politics greatly influence our daily lives," McCoy said. "The Ballot Exposé helped supplement voter knowledge on the local and state level."
Students expressed similar excitement about participating in the political process.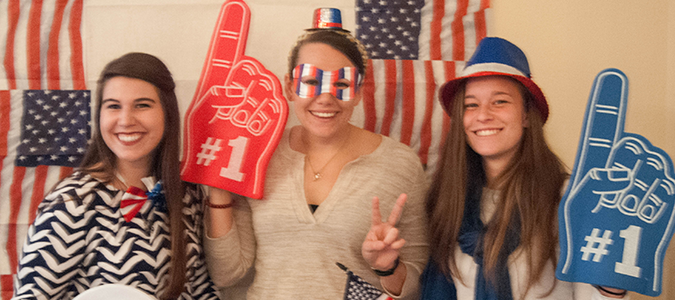 "It's hard to navigate local politics when you move to a new place," said first-year Master of Divinity student Sarah Parker. "I'm excited to be here and learn about the details of different candidates' platforms."
"I needed to get more information about local candidates," said Anna Fleig. "Now I have more tools to educate myself so I can make important decisions." Fleig is completing a joint Master of Divinity and Masters of Arts in Counseling degree.
Candidates present at the non-partisan event included June Atkinson, superintendent of public instruction; Lon Cecil, Libertarian candidate for governor; Edward Hanes Jr., incumbent candidate for the District 72 seat in the N.C. House of Representatives; Eric Henderson, candidate for the Northwest Ward seat on the Winston-Salem City Council; Bob Stitcher and Selester Stewart, candidates for the Forsyth County Board of Commissioners; Aaron Berlin, NC District Court judge candidate; and Linda Stephens, incumbent candidate for NC Court of Appeals judge.
Related News
Wake Forest Holds First Ballot Exposé (Old Gold and Black)The School of Divinity planned the event in alignment with its mission of educating students to be agents of justice, reconciliation and compassion.
"Providing this type of informational outlet for the upcoming election puts justice and reconciliation front and center," said Shonda Jones, associate dean of admissions and student services. "Religious leaders and the communities they serve want to move beyond partisan and caustic rhetoric to hearing about the issues that concern us most."
Stitcher, who attended the Exposé, believes the event provided an invaluable opportunity to meet people and have civil conversation about important issues facing voters despite the "embarrassing, frankly un-American" state of political discourse dominating this election cycle.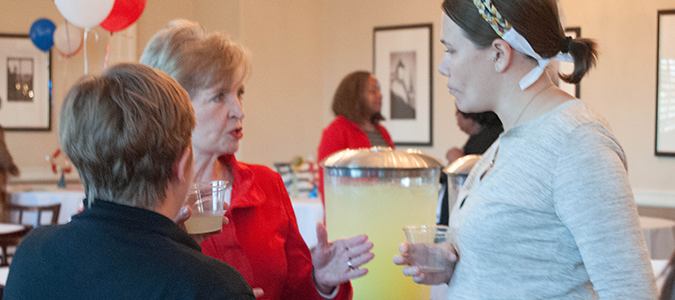 Second-year Master of Divinity student Stephanie Williams agreed. "For me, it's great to talk to the actual people behind the platform and get to know them on a personal level," she said. "This helps people come together in a divisive, hate-fueled political climate."
Later this month, Wake Forest University will host six 90-minute sessions as a part of a series called, "Election 2016: Debating the Issues." Find out more about these events being held October 25 – 27.
Categories: Community Engagement, Faculty, News
Recent Posts
June 1, 2023

May 19, 2023

April 5, 2023