Main Content
by Hilary Floyd, Office of Community and Lifelong Learning, and Mark Batten, Office of Communications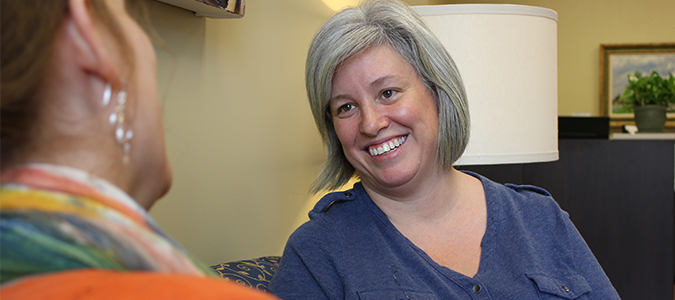 Now in its third year, the Wake Forest University School of Divinity's Financial Well-Being for Pastoral Leaders program continues to assist students in examining and strengthening their financial practices. The program has been made possible by the Indianapolis-based Lilly Endowment, Inc.
The program recently invited certified financial planner Chuck Clifton to speak to students about financial literacy. Clifton, founder of Sycamore Financial Planning, LLC, a fee-only financial planning firm headquartered in Durham, NC, addressed goal-setting, creating a spending plan, managing risk, limiting debt, investing for retirement, and negotiating compensation with a group of students.
"We live in a complicated financial world," Clifton Said. "It is very easy to develop anxiety."
By providing space and time for students to interact with financial leaders like Clifton, students are provided with resources to sustain a realistic and responsible financial plan as they enter their initial ministry positions. Although students may be tempted to avoid thinking about repaying student loan debt, creating an emergency fund, or saving for retirement, these important habits require knowledge, planning, and discipline that the School of Divinity hopes to cultivate.
"Our Financial Well-Being program is built around the core elements of formation, education, integration, and outreach," said Shonda Jones, program director and associate dean of admissions and student services. "The formation component specifically addresses financial literacy and financial skills-building as an essential pastoral practice that will aid in addressing the economic challenges that our students face.  Our hope is to create a fresh understanding of ministry and financial well-being using multiple strategies."
Because of his experience advising pastors and developing curriculum for churches and non-profits, Clifton spoke directly to issues and concerns that future religious leaders will face. As one example, he noted that most churches will not be able to offer a traditional pension plan, so students planning to go into pastoral ministry must be prepared to conscientiously save for their own retirement. Clifton also shared a number of online tools and resources to help students understand and manage their finances more effectively.
Pictured above is third-year Master of Divinity student Anna Fleig, who serves as a peer mentor. Hear more from Anna and other community members on the impact of our financial well-being program.Through the Financial Well-Being for Pastoral Leaders Program, the School of Divinity aims to create a culture that shapes the habits and skills of pastoral leaders, promoting financial well-being for themselves and the communities they serve. Selected students, who come with a financial background or have an interest in cultivating financial health, serve as peer mentors and provide empowerment resources as well as lead small group conversations on financial literacy and stewardship. Wake Forest University also provides access to CashCourse, an online tool that helps students manage their budget, financial planning, and developing long-term goals. Find out more about the program.
Categories: Current Students, News
Recent Posts
June 1, 2023

May 19, 2023

April 5, 2023