Main Content
by Erica Saunders and Hilary Floyd
Media Contact: C. Mark Batten, Office of Communications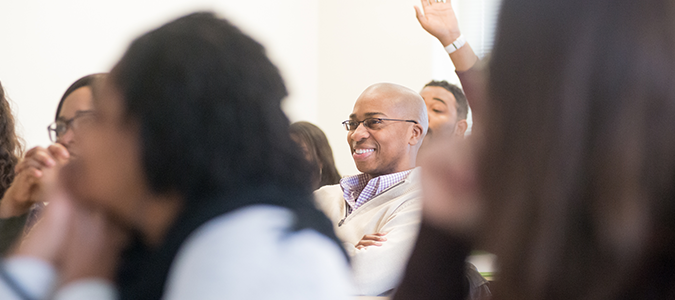 The faculty of Wake Forest University School of Divinity have used a grant from the Wabash Center for Teaching and Learning in Theology and Religion to implement innovative learner-centered teaching styles in their classrooms. The Wabash Center, funded by the Lily Endowment Inc., is located at Wabash College in Crawfordsville, Indiana.
"We imagined that learner-centered teaching might be an ideal means to help students reflect on how they learn in divinity school.  When students have opportunities to shape their learning experience, their choices become part of this transformative work," said Michelle Voss Roberts, associate dean of academic affairs and project director.
Over the course of the 2015–16 academic year and the following summer, faculty met five times to discuss Learner-Centered Teaching by Maryellen Weimer and held a retreat to discuss Integrating Mindfulness into Anti-Oppression Pedagogy: Social Justice in Higher Education by Beth Berila.
"The faculty at the School of Divinity has always been deeply committed to student learning and engagement, and this grant makes that commitment even more clear and specific," said Hilary Floyd, academic skills instructor and program associate for community and lifelong learning, and 2010 alumna. "Through book discussions and sharing best practices, faculty have enriched their teaching practices in very tangible ways."
These tangible ways have included classroom innovations like a course project in which students chose an area of ministry practice they wanted to experience in their internship and designed a plan to develop it; self-evaluation of assignments using a rubric that students helped to design; a baseline test in which students could both identify the concepts and questions that they wanted to study and offer a rationale for why these are important to contemporary theological discourse and Christian life; student-created guidelines for engagement with one another and with the community partners they would encounter in the course, which allowed students to set measurable goals for class participation; "flipping" the classroom using Voice Thread technology to free up classroom time that would otherwise be devoted to lectures; and a number of creative, art- and performance-based assignments, which asked students to tap into their creativity to meet course goals.
In spring 2016, Jill Crainshaw, Blackburn Professor of Worship and Liturgical Theology, collaborated with students to design a course entitled, "Liturgical Writing as Spiritual, Theological, and Prophetic Act." As a result of this power-sharing between instructor and learner, the students worked with Professor Crainshaw at their own initiative to publish their writings as a book, Uncommon Words, Common Worship: Selected Prayers, Poems, and Laments.
The faculty conversations around teaching and learning have inspired Mark Jensen, teaching professor of pastoral care and pastoral theology, to implement the learner-centered model in his classroom in several ways, such as explicitly asking students what are ways to invite or expect engagement, refraining from using his favorite examples in class in favor of examples students bring to class, seeking to formulate assignments which are formative rather than summative, inviting students to explore the context from which they approach the subject matter, and prompting students to envision how they plan to "use" or "apply" what they have learned.
As a graduate school that is part of a university that values faculty as teacher-scholars, the School of Divinity continues to strengthen its commitment to effective teaching and meaningful student learning. Implementing learner-centered approaches to teaching helps to overcome passive habits of learning by encouraging students to own their role as agents of their learning and formation. As faculty engage in the ongoing work of becoming more effective teachers, students develop skills of collaboration and accountability, enabling them to become self-reflective religious leaders in a variety of ministerial contexts.
Recent Posts
June 1, 2023

May 19, 2023

April 5, 2023