Main Content
by Erica Saunders (MDiv '19) and C. Mark Batten, Office of Communications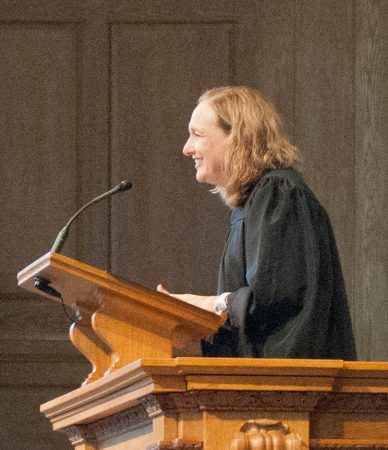 On Thursday, September 8, the Wake Forest University School of Divinity welcomed Rev. Killian K. Noe ('80) to give the fall convocation address in Wait Chapel. Rev. Noe is the founder of Recovery Café, a therapeutic community for men and women recovering from homelessness, addiction and other mental health challenges in Seattle, Washington. She is also pastor and founder of New Creation Community in Seattle, an ecumenical faith community committed to contemplation and action. Read more about Rev. Noe.
In her address entitled, "What the World Needs Now: Building Authentic Community," Noe underscored the need for justice in a world more broken now than at any time in her adult life. The remedy for this, she said, is to create "beloved, authentic community."
To embody such a community "in which everyone comes to know their life matters," Noe said, we must engage one another honestly, form relationships across difference, examine our own inner narratives that perpetuate injustice, and experience God's love.
"If we are to be repairers of the breach in these divided times, if we are to make a qualitative and quantitative difference in the lives we touch, we must allow transforming reconciling love to flow through us, in spite of us," said Noe. "We must practice leaning back into that river that flows toward justice, allowing ourselves to be carried to places and maybe into relationships we otherwise would not choose to go. And we must build communities that are like springs whose waters never fail."
By the time Noe had finished speaking, the margins of Hannah McGrath's (MDiv '19) program were filled with notes. The address left her speechless.
"With classwork, it's so easy to forget why I'm here. But the way she speaks, I saw God coming so clearly from her and the love she has for others," she said. "She reminded me why I'm here. It was so moving."
Dr. Elizabeth Gandolfo, Earley Assistant Professor of Catholic and Latin American Studies, found the presentation "really humbling to hear." Particularly of note to her were Noe's remarks concerning changing narratives that perpetuate injustice.
"It reinforces the importance and purpose of the work we do," said Gandolfo. "Changing narratives is what we do here."
University President Nathan Hatch and several members of the Board of Visitors joined the school for the convocation service.
Watch or listen to Noe's address here. A transcript of her address is also available.
Categories: News, Special Events
Recent Posts
May 19, 2023

April 5, 2023

March 21, 2023