Main Content
by Hilary Floyd and C. Mark Batten, Office of Communications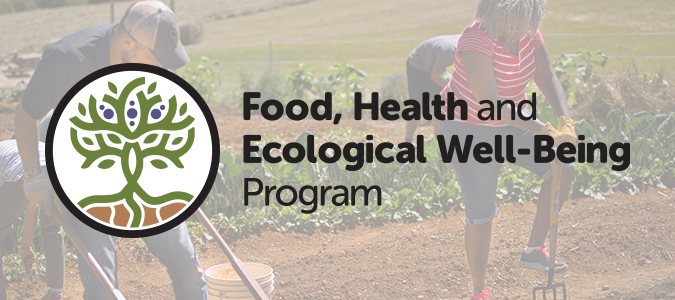 When the Wake Forest University School of Divinity launched the Food, Faith, and Religious Leadership Initiative in the fall of 2012, its aim was to equip religious leaders to lead their congregations and religious communities to engage food issues.
Over the past four years, the initiative encouraged the development of courses that help Divinity students understand the deep connections among the food we grow and eat, the impact of our food systems on the environment, and the health of our bodies and communities. The initiative has also convened a number of community engagement workshops, retreats, continuing education events, and an annual fellowship program. These events have brought together current School of Divinity students and food justice activists, non-profit leaders, farmers, and faith leaders across North Carolina, the U.S., and in several other countries.
Recognizing the deep interconnectedness of food, health, and ecology, the initiative has expanded to become the Food, Health, and Ecological Well-Being Program. With the expansion of the program to specifically include health and ecology, the School of Divinity renews its commitment to equip faith leaders and community members with knowledge, skills, and experiences to lead effectively across complex and ever-changing landscapes.
Fred Bahnson has served as Program Director since the initiative began and will continue to lead the expanded program.
"Interest in this initiative from the beginning has been immense, and our work continues to grow and deepen," Bahnson said. "I'm convinced that in the coming decades there will be an increasing need for faith leaders who can lead at the intersection of food, health, and ecology. Our aim is to get ahead of the curve."
The Food, Health, and Ecological Well-Being Program works in tandem with the School of Divinity's Master of Divinity degree program to ensure that the themes of stewardship and living in peace with the land are infused throughout the School of Divinity curriculum. Many faculty members, including Mark Jensen, Jill Crainshaw, and Derek Hicks, and John Senior, have taught courses that examine different aspects of food systems, ecological sustainability, and religious leadership. Courses include "Food, Faith, and Health: Navigating the Intersections in Community," which gives students the opportunity to explore and analyze moral gaps of food and health disparities in communities, and "Tree of Life, River of Life: Christianity, Climate Change, and Ecological Vocation," which aids students in identifying a theologically-informed set of practices for how they can derive their energy and feed themselves in ways that lead to creation's flourishing rather than its demise.
The program also serves clergy, congregations, faith-based nonprofits, community gardeners, food activists, and other faith leaders and community members concerned about public health issues by inviting speakers and organizing continuing education events. Most of these events are free and open to the public. Past events have taken place in Winston Salem, Asheville, and Charlotte, including several events over the past year focused on the 2015 papal encyclical Laudato Si. The annual Re:Generate Fellowship program gathers young faith leaders active in various parts of the food and ecology movement from across the country for several days of meaningful conversation, connection, and training. The program has a strong university partner in the Center for Energy, Environment, and Sustainability (CEES), and will continue to partner with CEES to convene panel discussions and host visiting speakers.
The Food, Health, and Ecological Well-Being invites those interested to join their work. For more information visit www.divinity.wfu.edu/fieldwork.
Categories: Academics, Faculty, News, Religious Leadership and Food, Health, and Ecology
Recent Posts
May 19, 2023

April 5, 2023

March 21, 2023