Main Content
by Erica Saunders (MDiv '19), Hilary Floyd, and C. Mark Batten, Office of Communications
Black lives matter to John Parker. A prominent community organizer and member of the School of Divinity Board of Visitors, he spoke at a July 21 protest in Raleigh sponsored by Movement for Black Lives National Solidarity Action.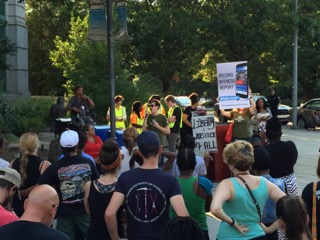 Parker spoke as the representative of the Triangle chapter of Showing Up for Racial Justice, a grassroots network of groups with the aim of organizing white people for racial activism in support of people of color. He used the opportunity to demand an end to state-sponsored violence against black people, a transformation of policing, and a concrete change in policy to accomplish these goals.
In short, "we must reimagine how we achieve safety for everyone in an equitable and just society." Parker urged the approximately 100 attendees to organize to dismantle racist institutions in our society.
"Basically, policing, prisons, and the criminal justice system work to maintain white supremacy and class warfare while hurting the working class and poor white folks," said Parker. "That doesn't support freedom. That doesn't build or strengthen community."
These calls to action continue to resonate in light of the recent police killings of Terrence Crutcher in Tulsa, OK and Keith Lamont Scott in Charlotte, NC.
This fall, John Parker is teaching a course for the School of Divinity titled, "Community Engagement, Organizing, and Development," which aims to encourage students to address issues and challenges in the communities they serve by working in partnership with others. The School of Divinity believes that all of its students are called to the complex work of seeking justice and reconciliation and provides innovative courses and practical experiences to equip them for this work. This course is open to those in the community who may be interested.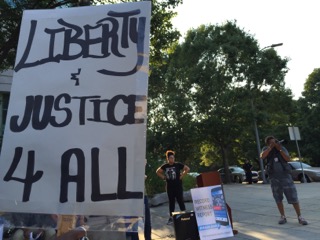 "For the liberation and empowerment of our common humanity, for the good of the whole, let's invest in not just survival, but in the thriving abundance of our black and brown friends and family," Parker said at the rally on July 21. "We all need to be alive and be free."
Earlier this year Parker wrote a reflection, "Choosing Community Over Chaos," on the events of Baton Rouge, Louisiana and Falcon Heights, Minnesota which was published by the School of Divinity.
Read more about the Raleigh protest and learn more information about protest sponsors Movement for Black Lives and Showing Up for Racial Justice.
Categories: Advancement, Community Engagement, News
Recent Posts
June 1, 2023

May 19, 2023

April 5, 2023