Main Content
by Hilary Floyd, Office of Community and Lifelong Learning,
and C. Mark Batten, Office of Communications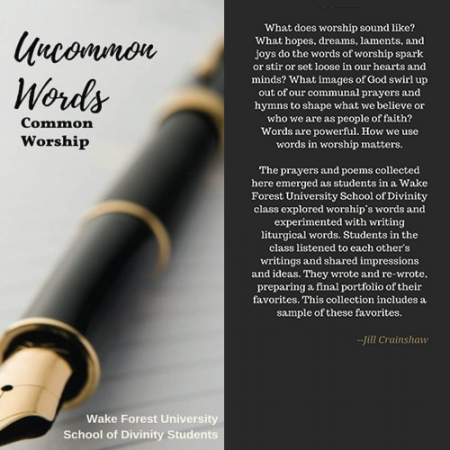 During the spring semester of 2016, Jill Y. Crainshaw, Blackburn Professor of Worship and Liturgical Theology, offered a course titled, "Liturgical Writing as Spiritual, Theological, and Prophetic Act." In the course students explored prayer styles, theologies, and shared narratives from both historic and contemporary worshipping communities. As they studied the power of words and language to reflect and shape theology, Crainshaw challenged students to discern the relationship between their own unique voices and theologies and their roles as public prophets, theologians, and spiritual leaders.
In the beginning of the course, students expressed a desire to compile the prayers, litanies, and laments that they wrote for the course into a collection that could be shared with a broader audience, so Crainshaw reached out to William Kane, publisher for Library Partners Press at Wake Forest University, to help with the development of published digital and print versions of the best of what students wrote for the class. The resource, Uncommon Words, Common Worship: Selected Prayers, Poems, and Laments, features liturgies written, edited, and organized by the students in the course. The experience of creating and collaborating on this published work gave students the opportunity to not only learn more about the words that are used in worship traditions, but also to help shape those traditions in meaningful ways.
Reflecting on her experience in the course, Master of Divinity student Demi McCoy appreciated that as a class, "we were able to fully immerse ourselves in the imaginative world of liturgy and embrace its potential for ministry."
Crainshaw enjoyed working closely with the students in this contemplative, learner-centered course. "We were able to reflect together on the ways that communal prayers and hymns shape what we believe and who we are as people of faith."
Uncommon Words, Common Worship: Selected Prayers, Poems, and Laments is available for purchase on Amazon at http://wakediv.school/uncommon-words ($0.99 for e-book, $7.99 for print).
About Library Partners Press
The idea behind Library Partners Press is to publish quality books (of any length and size, in both electronic and print-on-demand formats) created by Wake Forest University and North Carolina library patrons and friends. LP Press is a cooperative program established by Wake Forest University, the Z. Smith Reynolds Library, and Digital Publishing @ Wake, for the purpose of collecting, publishing, and delivering content created by library patrons everywhere. Learn more at https://librarypartnerspress.org/.
Categories: Academics, Courses, Faculty, News, Spiritual Life, Worship
Recent Posts
March 21, 2023

February 16, 2023

February 2, 2023