Main Content
by: C. Mark Batten | battencm@wfu.edu | 336.758.3959
"…what hounds and thrills me is [the] inescapable suspicion that I suffer a Calling from God. [It's] a light from behind, warming my backside, narrowly lighting the way ahead, casting a shadow toward where I'm bound when, occasionally, I'm in it."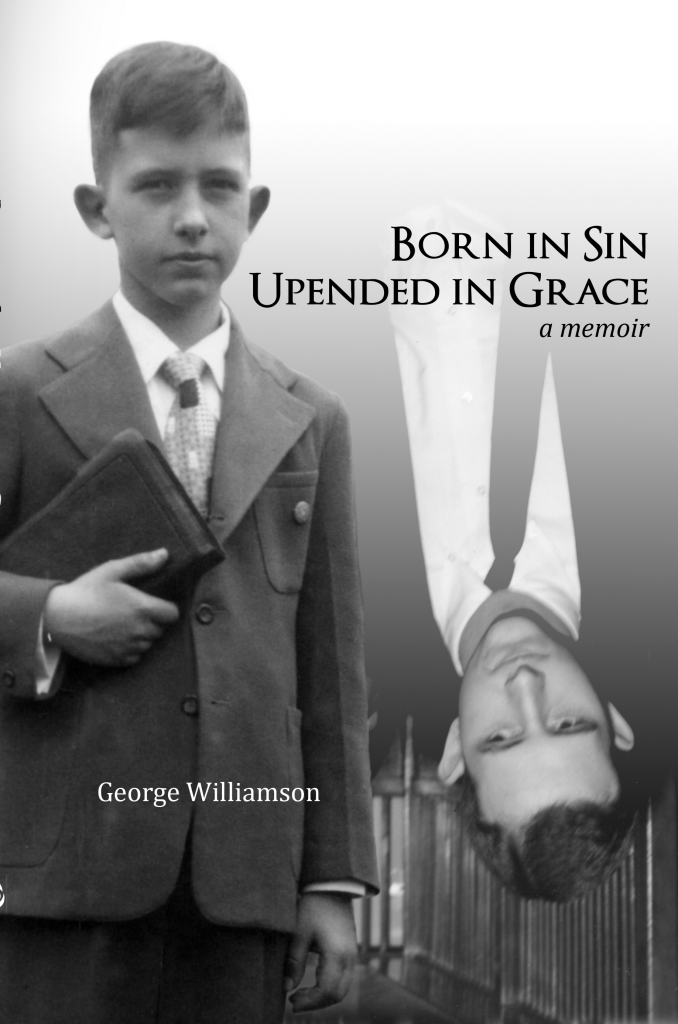 In his autobiography, Born in Sin, Upended in Grace: A Memoir, George Williamson reflects on his birth into a culture that was on the "wrong side" of major social-moral issues of the twentieth century: racist, militarist, misogynist, homophobic, anti-Semitic, nationalist, elitist, and environmentally profligate. Over the course of the memoir, Williamson writes with a fierce passion about the ways he was catapulted from these "sins," as he calls them, into "grace" – his recovery – by the signature social movements in the latter half of the twentieth century.
Williamson, a 1961 graduate of Wake Forest College, was among the twenty-one students from Wake Forest and Winston-Salem State University who conducted the Winston-Salem lunch counter sit-in in 1960. "What happened that day came to define who I am," he writes. "[We were] idealistic youths jailed for an innocent act of fairness that fatefully helped to discredit Segregation before the world. And something else. This guilty, Southern white boy, Born in Sin and born Born Again, was Born Again, again."
"I wanted to write a treatise on sin and grace," Williamson said, "with sin understood as the thick cloud of meanness conspired to by social groups and inflicted on the less advantaged, something I myself was born to, silently nourished in, and unconsciously but wholeheartedly came to affirm. And with grace understood as God-embodied uprisings to expose sin for what it is, unleashing forceful winds of recovery, bequeathing new hope and power to those like me."
Williamson also said he wanted to explore the inner dynamics of such sinful and gracious forces, articulating their biblical and theological meaning, as it had come to him over a lifetime of research and preaching. He received his Ph.D. in Christian Ethics from Vanderbilt University and served as a chaplain and religion professor at Vassar College for 11 years. Williamson also convened the founding meeting of the Baptist Peace Fellowship of North America (BPFNA) and served as its first president.
Williamson, who currently serves on the School of Divinity's Board of Visitors, established the Mac Bryan Prophetic Preaching Series at the school.
"George Williamson's passion for justice embodies the goals and social impact aspirations of the School of Divinity for our graduates and their ministries," said Gail R. O'Day, Dean and Professor of New Testament at the School of Divinity.
The preaching series honors the late George McLeod "Mac" Bryan, Sr, who was professor of religion at Wake Forest for 37 years, and brings preaches and speakers to campus who will inspire students to live and serve at the intersection of Christianity and social justice. Since 2014, the series has welcomed to the pulpit in Wait Chapel The Rev. Dr. William J. Barber II, architect of North Carolina's Moral Monday-Forward Together Movement, and The Rev. Dr. John Dorhauer, ninth General Minister and President of the United Church of Christ.
Ken Sehested, founding director of BPFNA, wrote in a review that, "What I think George would want you to know is that these stories don't belong to him. These stories, your stories, our stories – the very meaning of our Eucharistic practice – is that we belong to each other, feeding each other, being fed together, baptized as we are in to one body in Christ rather than in separate investment portfolios."
Williamson's hope is that readers will look for and find themselves in his plight and struggles toward recovery. "Essentially, as with most memoirs, it is an effort to understand what happened to me, and what, in grace, I've been enabled to make of my life."
Wake Forest University Provost Rogan Kersh finds Williamson's autobiographical reflection profoundly honest. "Every chapter contains rare gems, from encounters with Dr. King to Mary Daly to George's brilliant riposte to Fred Phelps and his Westboro Baptist band of fellow homophobics, where their hate-filled 'Repent or Perish' t-shirts were met with affirmations of support for the emerging LGBTQ movement and t-shirts declaring, 'Repaint our Parish.'," Kersh said. "I'm all the prouder to be a Deacon after reading this hilarious, moving, essential book."
Born in Sin, Upended in Grace: A Memoir can be purchased online through BPFNA.
Categories: Alumni, News, Publications
Recent Posts
June 1, 2023

May 19, 2023

April 5, 2023