Main Content
by C. Mark Batten, Office of Communications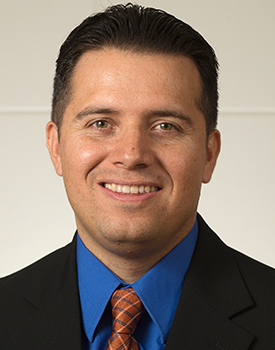 With the start of the 2016-2017 school year, Wake Forest University School of Divinity will welcome Erik A. Estrada, who joins the faculty as postdoctoral teaching and research fellow in the area of Early and Medieval Christianity. Dr. Estrada will teach classes on the history of the church and a range of electives on Christian-Jewish and Christian-Muslim relations in Early and Medieval Christianity.
As a Catholic lay student, he began his post high-school education at a local junior college in Southern California while working in construction. Dr. Estrada studied in Rome, earning a S.T.B. from the Pontificial University of Saint Thomas Aquinas and a licentiate – Masters equivalent – from the Augustinianum Patristic Institute. After teaching for two years in the largest Catholic high school in archdiocese of Los Angeles, he obtained a M.M.S. and Ph.D. from the Medieval Institute at the University of Notre Dame. A Mexican-American scholar who specializes in the history of late antique Christian theology and its impact on medieval to early modern Christianity, Estrada comes to the School of Divinity after serving two years at the Claremont School of Theology as a recipient of the prestigious Postdoctoral Fellowship from the Louisville Institute.
"I am excited about joining an educational institution that values the importance of historical theology and Church history for training future leaders," he says. "I hope to provide students transformational encounters with the Christian tradition. By inviting students to discuss the literary, pictorial, and even archaeological sources, I hope to instill an awareness that Christians of all denominations share a common religious heritage."
Dr. Estrada translated Italian, Latin, and Greek texts for the third volume of the Encyclopedia of Ancient Christianity (InterVarsity Press, 2014) and helped translate and edit The Monk's Haggadah: A Fifteenth-Century Illuminated Codex from the Monastery of Tegernsee (Penn State University Press, 2015). His article, "Israel, People of (Christianity)," will be published in the forthcoming Encyclopedia of Bible and its Reception (Walter de Gruyter, 2016).  Dr. Estrada's research projects seek to explain how and why in its two millennia of existence the Christian tradition has been understood and appropriated in many variegated ways.
Recent Posts
June 1, 2023

May 19, 2023

April 5, 2023