Main Content
by Andrea Simmonds (MDiv '18), Office of Communications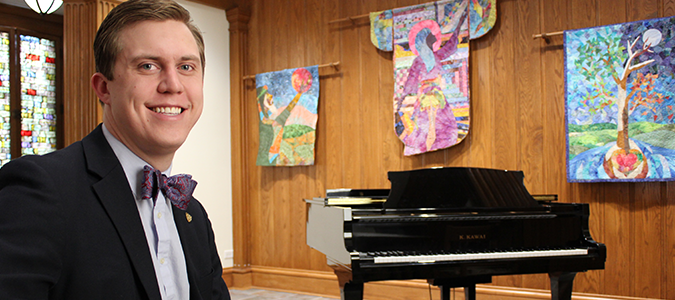 Name: Daniel Potter
Hometown: Chapel Hill, NC
Denominational Affiliation: Cooperative Baptist Fellowship (CBF)
Before attending Wake Forest University School of Divinity, Daniel completed his undergraduate studies at the University of North Carolina at Chapel Hill, earning a Bachelor of Science in Business Administration, with a dual focus in Operations and International Business, and a Hispanic Studies minor. He was ordained in the CBF tradition in March of 2015 at Mount Carmel Baptist Church in Chapel Hill, NC. He was drawn to Wake Divinity by the warm, loving embrace of the community and the opportunity to learn from the vibrantly diverse student body. He also knew it had something that others schools couldn't fully offer: the theologically and socio-culturally diverse community. In coming to Wake he wanted to learn from the vast experiences of his peers in hopes of seeing how he might better work across denominational lines in his vocation. Moreover, he wanted to build a supportive network of caring friends from all walks of life to enrich his future ministry.
What was the best advice you were given during your time at Wake Div? What would you have told your first-year self starting out?
The best advice I was given before coming to Wake Divinity was to allow myself to fully engaged. I was encouraged to engage in three ways: by embracing the difficult course of study that would challenge my own beliefs, by truly getting to know my peers – in the classroom and in my personal time, and by opening myself to the plethora of opportunities for personal and spiritual growth. I would offer that same advice to my first-year self with one caveat: engage yourself by finding the appropriate time and space to give to the community and others while still making time for the things that make you come alive in other ways.
What will you miss most about Wake Div?
I will sorely miss the people of Wake Div – faculty, staff, and students alike. They welcomed me with beautifully open arms and walked beside me through the various peaks and valleys of my journey. Most of all, I'll miss our mutual vulnerability, which sprung forth in joyous conversation and in tearful reflections, and the opportunity to glean from the wisdom and experience of my peers.
What is your favorite memory from your time at Wake?
During my second year, while Davis Chapel was under renovation, we were worshipping nomads that moved throughout Wingate Hall seeking meaningful moments of worship. During one of the last services of our wandering, we had a hymn and song-based service in the Lower Auditorium that deeply enriched my soul. Not only had our fellowship hall been transformed into a holy temple, but our voices rang out in the unity and close harmony of divine, joyful noises. I still hear the echoes of that music in my soul and feel its powerful rhythms rattling in my bones.
Who or what has influenced you the most during your time at Wake? How?
The faculty and staff of Wake Divinity have been such wonderful mentors to me throughout my time. Most notably, though, I'd say that Dr. Jill Crainshaw has had the biggest impact on the practical theology I carry. Through innovative classes like Worship Matters and Liturgical Writing, Dr. Crainshaw has helped me to explore the depths of our worship and our role as ministers and leaders in shaping liturgical theology. In many ways, she has helped me to keep my faith a practical matter, rather than a mental exercise, by challenging me to better see the holy in the mundane yet beautiful world around me. I've been fortunate to glean from her wisdom, taking a class with her each semester of my time at Wake.
What does earning this degree mean to you?
Earning this degree marks the realization of the first step in a calling towards vocational ministry. Having spent time studying so many other disciplines in my undergraduate studies, my work at Wake Divinity helped to tie all that I've learned and experienced into my understanding of my calling. In addition to this degree, I leave here with a better sense of my identity, of the journey ahead, and of the myriad resources available for empowering others in their own journeys of faith.
Name some of your accomplishments while at Wake and groups/service you've been involved with.
I've been very fortunate to participate in a wide range of groups and activities these past three years. On campus, I've helped shape our bi-weekly worship as a member of the Community Worship Committee, shared in the fellowship of competition in Intramural Sports, discussed the depths of stewardship and financial literacy as a Financial Well Being Peer Mentor, created meaningful moments of personal and spiritual nourishment through Beatitudes, and offered my own voice through serving as the Second Year Representative on the Student Leadership Council.
Away from campus, I've also been active in my denomination as a National Leadership Scholar, as a member of the CBF North Carolina Divinity Student Task Force, and as a recipient of the Daniel and Earlene Vestal Leadership Scholarship. Finally, I've been a music ministry intern at Trinity Presbyterian (PCUSA) and served Knollwood Baptist Church as a youth ministry intern during my second year and as the Interim Youth Minister this year.
Do you have a job/vocational plans lined up? If so, what, where?
I have accepted a job as the Minister to Youth at First Baptist Church in Columbus, GA. My wife, Rachel, and I look forward to moving to Columbus in July and beginning the next stage of our journey in that loving community.
Other Class of 2016 Graduate Features
Categories: Current Students, Graduation, News
Recent Posts
June 1, 2023

May 19, 2023

April 5, 2023