Main Content
by Andrea Simmonds (MDiv '18), Office of Communications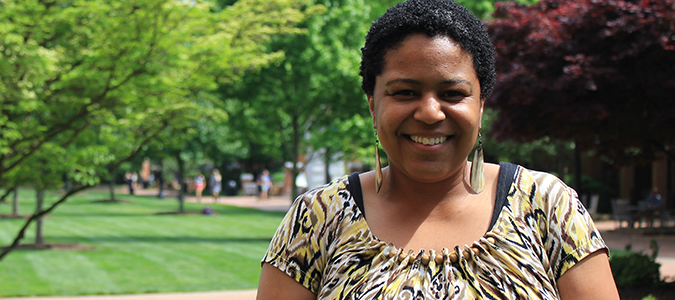 Name: Angel Furmarita Lee
Home Town: Washington, D.C.
Denominational Affiliation: No Preference
Before coming to Wake Forest University School of Divinity for a second masters, Angel received a Bachelor of Science in Math from Bennett College and a Masters of Business Administration from Elon University. Angel's reasons for choosing Wake began in a hair salon where she happened to meet Dr. Veronice Miles, Associate Teaching Professor of Preaching and Religious Education, where they engaged in a conversation about religion, church, and race. Angel remained in contact with Dr. Miles and decided to apply to the School of Divinity a few months later. She wanted to pursue theological education to receive a deeper knowledge of the Bible and to develop a better understanding of her calling.
Name some of your accomplishments while at Wake and groups/service you've been involved with.
I became a supply Preacher for the Salem Presbytery of the Presbyterian Church (USA) and served two local congregations: Lloyd Presbyterian and Shady Side Presbyterian.  I volunteered as a Check-In Volunteer Coordinator for City With Dwellings' Winter Overflow Shelter in Winston-Salem and assisted in classroom instruction and mentoring programs in Winston-Salem Forsyth County Schools.  I completed a Clinical Pastoral Education (CPE) unit at the Durham VA Medical Center in Durham, North Carolina.  I interned my second and third years at Bennett College in Greensboro, North Carolina as Chaplain Intern.  I also represented the Divinity School in the 2016 National Academy of Preachers in Lexington, Kentucky.  Most recently, I served as Spring Break Mission Trip chaperone for the Baptist Student Union at Wake Forest University.
What was the best advice you were given during your time at Wake Div? What would you have told your first-year self starting out?
One has to take care of herself in order to serve as the presence of God to others.
What will you miss most about Wake Div?
I will miss the theological discussions in class and the student lounge the most.  Our ecumenical community provides me with opportunities to learn so much by listening to people with different opinions and experiences of God.
What is your favorite memory from your time at Wake?
My favorite memory is the community worship service I led in Davis Chapel.  It was an opportunity for me to give back to the community that has given so much to me.
Who or what  has influenced you the most during your time at Wake? How?
Working as a Check-In Volunteer Coordinator with City With Dwellings' Winter Overflow Shelter during my second year had a great influence upon my ministry.  I came to divinity school seeking to learn how to fulfill my calling, which is evangelism and urban ministry.  I had the pleasure of leading the homeless guests in devotions one night a week.  I also had the opportunity to serve the homeless guests through hospitality (snacks, drinks, and welcome), prayer, listening, and encouragement.  I formed close relationships with many of the guests, thus we continued to bless each other throughout the year.  This experience not only confirmed my calling for evangelism and urban ministry but also taught me how to love those who are suffering.
What does earning this degree mean to you?
Earning a Master of Divinity reveals that I chose to take the time to dedicate to theological education and training. Furthermore, earning my degree from Wake Forest enabled me to view God in new ways, opened my eyes to the struggles of other marginalized groups, helped me to understand myself better, gave me new spiritual practices, and taught me to read the Bible in Greek and Hebrew. Additionally, I have done more community outreach and built relationships with more pastors than I did before divinity school.  I now have the tools to boldly perform my calling in evangelism and urban ministry.
Do you have a job/vocational plans lined up? If so, what, where?
I will be serving in a CPE Residency at the Durham VA Medical Center in Durham, North Carolina.
Other Class of 2016 Graduate Features
Categories: Current Students, Graduation, News
Recent Posts
June 1, 2023

May 19, 2023

April 5, 2023