Main Content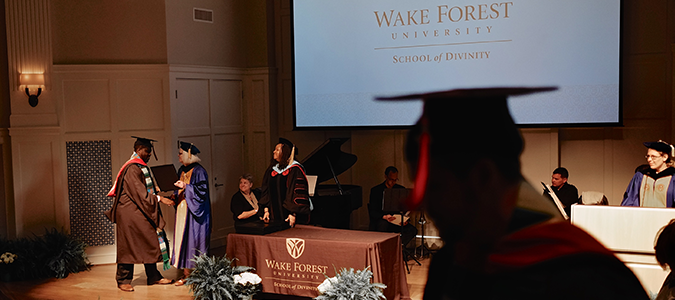 On Saturday, May 14, the graduating class of the School of Divinity will gather for the school's annual Hooding Ceremony. At the service, graduates receive their masters' hoods in recognition of completion of requirements for the Master of Divinity degree. Not only is it a celebration of academic achievement, but also a special service of worship. The ceremony begins at 7:00 p.m. in Wait Chapel. Themed "Named by God on Holy Ground," the service will include a homily by Professor Jill Crainshaw, special music and liturgical movement from School of Divinity student groups, and several special recognitions.
Graduates and their families and friends are then invited to a reception in the Green Room of Reynolda Hall following the ceremony.

On Monday, May 16, School of Divinity graduates will line up with students from all of Wake Forest's graduate and undergraduate programs for the 2016 Wake Forest University commencement exercises. The University's president, Nathan O. Hatch, will preside and confer degrees at the ceremony on the quadrangle, which begins at 9:00 a.m. Eboo Patel, a leading voice for interfaith cooperation and the founder and president of Interfaith Youth Core (IFYC), will deliver the Commencement address.
Following the all-schools event, School of Divinity students will proceed directly to the Porter Byrum Welcome Center where Dean Gail R. O'Day will present diplomas in a ceremony that begins at 11:00 a.m. This year, the School of Divinity will grant 33 Master of Divinity degrees, 1 Master of Divinity/Master of Arts in Counseling joint degree, and 2 Master of Divinity/Master of Arts in Sustainability joint degrees. The school will also celebrate its first graduates from the Juris Doctor/Master of Divinity joint degree program. One student is graduating with a concentration in Food and Faith.
Should a light rain fall on Monday morning, all activities will proceed as planned. In the event of severe weather, however, the ceremony on the quadrangle will be moved to the Lawrence Joel Veterans Memorial Ceremony. Graduates will then be transported via shuttle to the Diploma Ceremony. Information on inclement weather schedules will be available on Monday morning on Wake Forest's website, the School of Divinity website, and via social media.
For more information on parking, seating, and events related to commencement visit Wake Forest University's commencement page.
Categories: Graduation, News
Recent Posts
June 1, 2023

May 19, 2023

April 5, 2023