Main Content
by C. Mark Batten, Office of Communications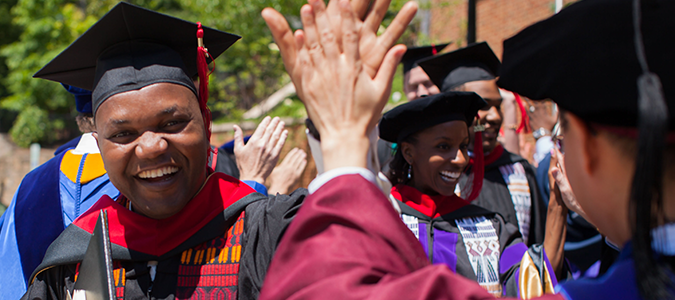 Wake Forest University conferred degrees to 1,873 graduates during Commencement held on Monday, May 16. Of the graduates, Master of Divinity degrees were awarded to thirty-seven students at the School of Divinity. Four divinity graduates received joint degrees, one with a Master of Arts in Counseling, one with a Master of Arts in Sustainability, and two with a Juris Doctor.
The School of Divinity held two ceremonies honoring graduates, a hooding ceremony on Saturday, May 14, and a diploma ceremony following Commencement on Monday.
Watch the hooding ceremony »The hooding ceremony, planned by members of the class of 2016, used imagery that recalled how the class had begun their time together at the School of Divinity.  A dominant image of the service was their experience of standing on holy ground. Student music ensemble, Lift Every Voice, and liturgical movement group, Amazing Grace, contributed to the service with powerful offerings of music and dance.
The class selected Jill Crainshaw, Blackburn Professor of Worship and Liturgical Theology, to be the hooding speaker. In her remarks, based on the story in Genesis 32:24-31 in which Jacob wrestled by the River Jabbok, she offered graduates a blessing.
"You've learned something here, passing by this way, that has gotten you ready to hold vigil with someone else through the night and taught your feet to have joy enough to dance when they arrive home in the morning," she said. "There are wounded hearts and broken spirits out there. Ministries to be done. Lives to be held. Love to be given. Life to be shared. You have learned something about what it means to look into the face of others and see the face of God. We need you to go out and make the world a place where people can see the face of God in the one most other than them. Go. Find another river and know that God holds you by the Jabbok."
During the ceremony, Gail R. O'Day, Dean of the School of Divinity, made the following recognitions:
Jeanette Wallace Hyde, United States Ambassador and life trustee at Wake Forest University, received the annual Bill J. Leonard Distinguished Service Award Pro Fide Et Humanitate. The award is given annually to someone who embodies and supports Wake Forest's motto of Pro Humanitate and the School of Divinity's mission to educate leaders who will be agents of justice, reconciliation, and compassion in their ministries. In 2013, Hyde made a $2 million scholarship gift to the School of Divinity, the largest commitment to scholarships by an individual in the school's history. The Hyde Scholarship had its first graduate this year, Rachel Revelle.
Veronice Miles, associate teaching professor of preaching and religious education, who has been at the School of Divinity since 2006, will leave the School of Divinity this summer to assume a faculty position in preaching at Wesley Theological Seminary in Washington, D.C. O'Day recognized the power of ministry in her justice-filled witness and mentoring of students over the last 10 years.
University Provost Rogan Kersh was also present and recognized Professor E. Frank Tupper on the occasion of his retirement for "combining intellectual honesty with theological passion and shaping the School of Divinity as one of the founding faculty." After 19 years of service at Wake Forest, Tupper received his citation as Distinguished Professor of Divinity Emeritus.
Watch University Commencement »At Monday's university ceremony keynote speaker Eboo Patel, founder and president of the Interfaith Youth Core, framed his remarks to all graduates on the opportunities that their education creates by telling a story about the early life of musician Louis Armstrong and the birth of jazz. When Armstrong's sheet music fell off the stand during a recording session, he didn't stop, but instead improvised and sang a string of rhythmic nonsense, now known as scat, thereby creating a new musical form. Patel, who served on President Barack Obama's inaugural Faith Council, told the graduates there can be missteps when you improvise.
"Your education has given you the eyes to read the road signs along way the way and the ability to change direction when the original plan goes sideways," he said. "There is something to be said for reaching milestones you set for yourself. There's a lot more involved in re-charting your course when you miss them."
Watch the Diploma Ceremony »At the School of Divinity's diploma ceremony that immediately followed the all-University festivities on Hearn Plaza, Dean O'Day invited graduates, referencing John 2:1-11, to be the abundance that the desperate and hurting world so needs.
"This wine miracle is the opening act of Jesus' public ministry in John," O'Day said. "Not a healing, not a teaching on the law, not the telling of some memorable parable. No, the act that defines Jesus' public ministry in John is the unexpected creation of 180 gallons of magnificent wine."
"Who would begin their ministry – first days on the job – by doing something so extravagantly abundant, so overwhelming good, so overflowing with love?" O'Day continued. "Our hope, prayer and confidence, Class of 2016, is that you will do all of these things because you have accepted the invitation to taste the good wine. You each and all, as individuals transformed by community, will go from here and be the abundance for which the world thirsts. Begin your ministries by being the love of our extravagantly loving God and gladden all hearts with wine."
Congratulations to the Class of 2016!

#gallery-2 {
margin: auto;
}
#gallery-2 .gallery-item {
float: left;
margin-top: 10px;
text-align: center;
width: 25%;
}
#gallery-2 img {
border: 2px solid #cfcfcf;
}
#gallery-2 .gallery-caption {
margin-left: 0;
}
/* see gallery_shortcode() in wp-includes/media.php */
Categories: Graduation, News
Recent Posts
June 1, 2023

May 19, 2023

April 5, 2023