Main Content
by C. Mark Batten, Office of Communication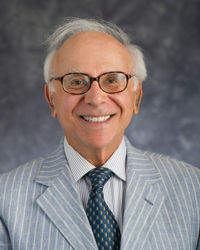 On Wednesday, April 20 and Thursday, April 21, Robert Audi, John A. O'Brien Professor of Philosophy at the University of Notre Dame, will deliver public lectures on the intersection of science and religion. Both lectures are free and open to the public, and will be live streamed.
Wednesday's lecture, The Problem of Evil as a Challenge to Theology and Philosophy, will begin at 2 p.m. in Room 202 of Wingate Hall. Audi will address the questions, "Can the amount and kind of evil in the world be reconciled with the existence of an all-knowing, all-powerful, and wholly loving God?" and "If this is a world under God, how could there be the apparently unending killing and suffering that history has revealed?" Drawing on his extensive work on these topics, Audi will lay groundwork for dealing with these challenges. Watch the live stream.
Thursday's lecture, Religion, Science, and Public Education, will begin at 3:30 p.m. in Room 202 of Wingate Hall. While science is commonly thought to be in conflict with religion, those who hold that opinion often fail to examine the numerous possibilities for intersection. Audi will consider the important question of whether the scientific habit of mind is compatible with religious faith. He will explore elements of the scientific method and sketch a conception that enables one to see whether it is religiously neutral or not. Watch the live stream.
Audi is the author of 13 books and more than 200 papers. His areas of research include ethics, political philosophy, epistemology, religious epistemology, and philosophy of mind and action. Audi also has written works on business ethics, ranging from ethical dimensions of leadership to religion in the workplace. He was recently honored with the publication of Rationality and the Good, an Oxford University press volume honoring his research, essays, and works written by over a dozen internationally prominent authors.
The lectures are made possible by the generous support of the American Association for the Advancement of Science's (AAAS) "Science for Seminaries" grant, seeking to bring science and religion together for conversation. The School of Divinity's program is entitled, Moving Science to the Forefront of Theological Education.
For those who plan to attend the lecture on campus, parking is available in lots C, M, N, and Q – visitor parking lots on Wake Forest's campus – as spaces are available.
Categories: Media Advisory, Special Events
Recent Posts
June 1, 2023

May 19, 2023

April 5, 2023