Main Content
by Sheila M. Virgil, Office of Advancement, and C. Mark Batten, Office of Communications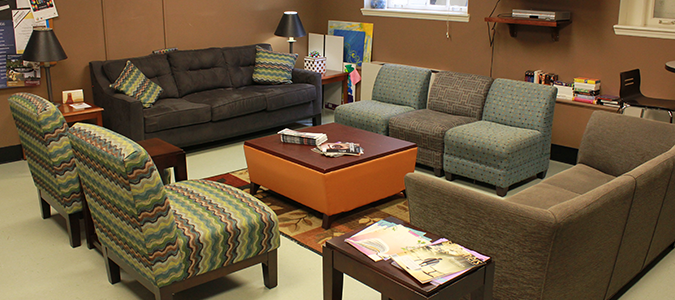 Rooms To Go, the nation's number one independent furniture company, partnered with the Wake Forest University School of Divinity to enhance lounges where students, faculty, and staff gather. School of Divinity lounges, located in Wingate Hall on the Wake Forest campus, are hubs for student and faculty engagement and study. As a graduate school whose degree program focuses on community building, these shared spaces provide a central location for constructive dialogue and meaningful study.
The enhancement initiative is part of a long-term strategic plan of Rooms To Go, launched two years ago, to aid premiere academic institutions in Rooms To Go marketplaces to create environments that are conducive to student-centered learning.
"The School of Divinity could not have created these new learning spaces without the support of Rooms To Go," said Gail R. O'Day, Dean of the School of Divinity.  "As a result of the generosity of Rooms To Go, our Master of Divinity students can now read and study in a comfortable, modern environment that reflects the Rooms To Go commitment to outfitting creative educational spaces. We are especially grateful to our Board of Visitor member, Frankie Jones of Phoenix One Enterprise, for helping to make this gift possible."
On March 31, during one of the School of Divinity's bi-weekly community lunches, representatives from Rooms To Go and Phoenix One Enterprise, facilitators of the program, were present on campus for an open house and revealing of the donated furniture and accessories.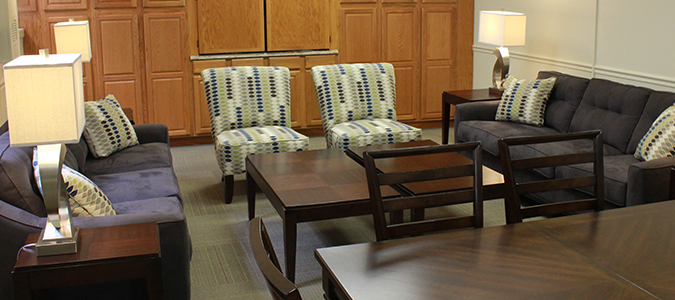 "Rooms To Go is committed to promoting and building strong communities by strategically contributing to crucial outreach programs," said Steve Buckley, President and COO of Rooms To Go. "For decades, we have focused on the nurturing and development of youth while underscoring the importance of quality education and innovative literacy programs. This furniture contribution is intended to aid Wake Forest School of Divinity in their new enhancements to broaden the perspectives of students as they ascend to that next level of excellence."
About Rooms To Go
Founded in 1991, Rooms To Go has grown into America's top independent furniture company with the nation's largest furniture inventory, offered in a simplified shopping experience.  With stylish furniture at everyday low prices, original and affordable room packages, superior service and fast delivery, Rooms To Go is America's favorite place to buy furniture.
Photos: student lounge (top), faculty and staff lounge (bottom)
Categories: News
Recent Posts
June 1, 2023

May 19, 2023

April 5, 2023