Main Content
by C. Mark Batten, Office of Communications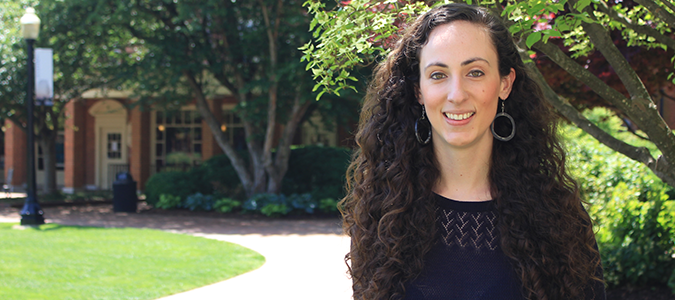 Graduating student Rachel Revelle has been awarded this year's Guthrie Prize. Rachel was selected based on the model of excellence she has shown in integrating academic study with leadership and service consistent with the School of Divinity's mission and values. The prize includes a $2,000 award.
The Guthrie Prize was established by Wiley C. Guthrie ('52) in memory of his wife and is awarded to graduating students who have a superior scholarship record, promise for effectiveness in ministry both within the school and the community at large, and actively participated in the school's activities. After receiving nominations of graduating students from faculty, staff, and students, nominees were asked to submit an application and peer recommendation. The recipient was then voted on by the faculty.
Revelle, originally from Murfreesboro, North Carolina, has been actively involved in the School of Divinity community and throughout the wider Winston-Salem community since beginning the Master of Divinity program in 2013. She was also named the first recipient of the Jeanette Wallace Hyde Fellowship. Revelle has helped to shape a stimulating and respectful classroom culture. On campus she has served as Secretary of the Student Leadership Council (SLC) and a Graduate Assistant with the Pro Humanitate Institute. In the community she has worked extensively with non-profits throughout the Triad, including City with Dwellings, Greensboro Urban Ministry, and Samaritan Ministries. Additionally, Revelle has interned with Knollwood Baptist Church and in the chaplaincy division of Wake Forest Baptist Medical Center.
"Rachel is an outstanding student, and a leader at the School of Divinity and the larger University," said Gail R. O'Day, Dean of the School of Divinity. "It amazes me that she can maintain her level of community engagement and high academic performance."
Fellow graduating student Rayce Lamb provided one of Revelle's peer recommendations. "Rachel has contributed to class discussions in a manner that only elevates our level of thought," he wrote. "Rachel has helped promote intentional community within our academic institution by being present and engaging in conversation with individuals that others would not."
After graduation, she will serve as a Chaplain Resident with the University of Colorado Hospital in Denver, Colorado. "The role of pastoral caregiver grounds me most authentically," Revelle said. "I feel committed to working for the healing and wholeness of all people and our common home. I want to be a part of the reimagining of the life of the world, whatever the materials for transformation might be."
Categories: Awards, Graduation, News
Recent Posts
June 1, 2023

May 19, 2023

April 5, 2023