Main Content
by Andrea Simmonds (MDiv '18), Office of Communications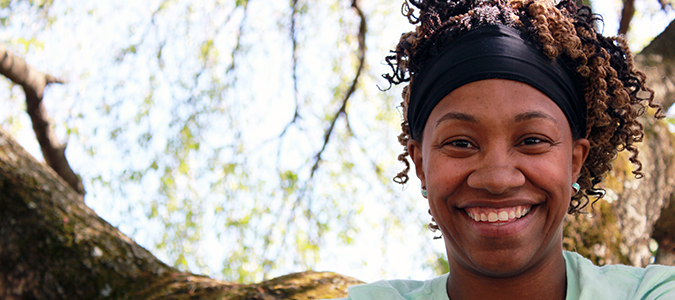 Name: Pia Diggs
Hometown: Charlotte, North Carolina
Denominational Affiliation: Baptist/ Non-Denominational
Before attending Wake Forest University School of Divinity, Pia received a Bachelor of Science in Exercise and Sport Science with a concentration in Community Youth Sports Development from the University of North Carolina at Greensboro. Pia chose to pursue her Masters of Divinity at Wake Forest because it felt right, even as a visitor. She appreciated the diversity and found the ecumenical nature welcoming, which was of significance for her, because of the different traditions within her own background.  
What was the best advice you were given during your time at Wake Div? What would you have told your first-year self starting out?
Do not expect to leave here with all the answers. Expect to have more questions than ever before.
What will you miss most about Wake Div?
I will miss the ability to freely engage in dialogue about anything, even those things that would make congregations cringe. I will also miss the uniqueness and diversity of this community.
What is your favorite memory from your time at Wake?
Studying in Wingate until the wee hours of the morning; we laughed and shared stories, and I really got to know some of my classmates through those all-nighters.
Who or what has influenced you the most during your time at Wake Div? How?
There are several who have influenced me during my time at Wake. Chris Copeland, Assistant Professor of the Practice of Spirituality, and Jill Crainshaw, Blackburn Professor of Worship and Liturgical Theology, pushed me to become comfortable in my skin and to step outside of my box. Veronice Miles, Associate Teaching Professor of Preaching and Religious Education, showed me care and concern early in my career, reaffirming my place as a black woman in ministry.
The internship that has influenced my vocation most is the Mount Zion – Evans Blount Community Health Center internship that I completed during the Summer of 2014. It enabled me to see how the faith world and health world can and should work together.
What does earning this degree mean to you?
Earning this degree means that I can accomplish anything, even in the face of adversity! When I left my job three years ago I never would have imagined that God would make so many provisions on my journey. I went from having no job to having too many. I went from living in Winston-Salem to living on campus and then to Greensboro. I have also committed to sticking to a budget to ensure that I have what I need. During my time at Wake Forest, I have lost my car, computer, and cell phone. With a budget in place and knowing my financial picture, I have been able to replace all three without additional burdens.
What are some of your accomplishments or service you've been involved with?
I've served as a Graduate Hall Director with Wake Forest Residence Life and Housing and served in a leadership capacity with AKONI – which provides a platform for students of African ancestry to explore theological education focused on the black religious experience. I have helped to co-found and currently serve as President of Amazing Grace, Wake Div's liturgical dance group. As a part of Art of Ministry, I have also served as a Chaplain Intern at Salem College.
Do you have a job/vocational plans lined up? If so, what, where?
I desire to do something in holistic health (body, mind, spirit). I think too often we negate at least one of the three. I have considered going back to school, after a year, to obtain a masters in counseling. I also see myself working in congregational ministry with youth and young adults.
Other Class of 2016 Graduate Features
Categories: Current Students, Graduation, News
Recent Posts
June 1, 2023

May 19, 2023

April 5, 2023