Main Content
by Andrea Simmonds (MDiv '18), Office of Communications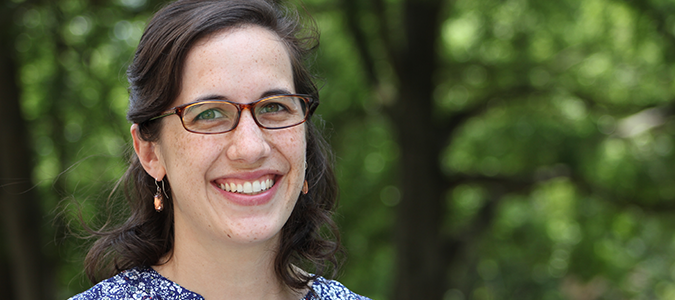 Name: Lindsey Michelle Altvater Clifton
Hometown: Greensboro, North Carolina
Denominational Affiliation: Presbyterian Church (USA)
Before attending Wake Forest University School of Divinity Lindsey received her Bachelor of Arts in English and Secondary Education from Elon University. Lindsey taught high school English for four years prior to starting at Wake Div. Lindsey chose Wake Divinity after having a conversation with a friend who had completed his M.Div. When she told him that she was looking for a program close to home so that she could commute, he encouraged her to consider Wake Forest.  After browsing the website she felt that Wake Divinity was where she needed to be and after visiting the campus she fell in love with the authenticity and care of the people, and the place.
What was the best advice you were given during your time at Wake Div? What would you have told your first-year self starting out?
Last year, some other students and I were sharing with a faculty member about the difficulty of new beginnings and transitions.  After listening to each of us with such kindness and care, this beloved mentor paused, shook his head in agreement, and said rather nonchalantly, "The first mile is always a pisser."  We were so surprised that everyone busted out laughing!  This hilarious, down-to-earth response was just what we needed in that moment.  Since then, it has served as a helpful reminder while navigating the ups and downs, starts and stops of deconstructing and reconstructing my sense of faith and calling here at Wake Div.
What will you miss most about Wake Div?
It's a three-way tie:  Community Worship, friends, and faculty (who are both mentors and friends).
What is your favorite memory from your time at Wake?
There is no way that I could pick just one!  So here are a few:  The countless Community Lunch conversations – the hilarious ones, the challenging ones, the sleep-deprived ones, the comforting ones, etc. The meaningful, transformative discussions I've had in every single class here. The communities of faith – two congregations, one retirement community, and a hospital – who embraced me and taught me so much during my div school internships. The small moments of kindness or care that I've experienced from each faculty member and staff person at Wake Div.
Who or what has influenced you the most during your time at Wake? How?
Being part of the Community Worship Committee has given me a strong sense of connection to Wake Div.  It has been such a gift to work and laugh, to dream and cry with the peers and faculty mentors that are part of this special group.  They've been an integral part of my vocational discernment and journey toward congregational ministry.  Alongside these folks, worship, ritual, and liturgy captured my imagination, and with their support, I learned to trust my calling to use these tools for pastoral care, community building, faith formation, and justice-seeking.
What does earning this degree mean to you?
More than I can say!  As an LGBTQ person of faith, I wasn't sure I'd ever find a Christian community that valued my whole self and affirmed my sense of calling.  The experiences I've had and the relationships I've built while earning this degree, though, have offered me gifts of grace and healing far beyond what I ever could have imagined.
Name some of your accomplishments while at Wake and groups/service you've been involved with.
Along with serving on the Community Worship Committee for the last two years, it has also been a great privilege to be part of the Student Leadership Council (first as Secretary, now as Vice President) and to be an Orientation Coordinator twice during that time.  I've also enjoyed participating in Kaleidoscope and Wake Div intramurals (soccer and volleyball)!
Do you have a job/vocational plans lined up? If so, what, where?
I'm still in the interview phase for a couple of positions here in the Triad, so nothing definite yet. The common denominator in the kinds of jobs I've applied for are worship planning, faith formation/education, and relationship/community building.
Other Class of 2016 Graduate Features
Categories: Current Students, Graduation, News
Recent Posts
May 19, 2023

April 5, 2023

March 21, 2023