Main Content
by Andrea Simmonds (MDiv '18), Office of Communications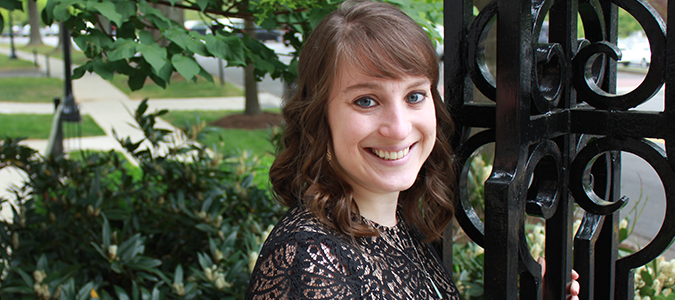 Name: Larke Alexandria Blanton
Hometown: Brevard, North Carolina
Denominational Affiliation: Cooperative Baptist Fellowship
Before attending Wake Forest University School of Divinity Larke was awarded her Bachelor of Arts in Psychology with a minor in Religious Studies from Appalachian State University. She chose Wake Div because she knew that it would provide the space for her to pursue divinity work in her context of choice, allowing her to feel the freedom to study inside the calling of God that was placed on her life even though it was not in a congregational setting. Her visit to Wake Div assured her that it was the place for her. The welcoming atmosphere, engagement with professors and classmates, and the emphasis on spiritual growth captured her soul. She believes that God chose this place for her.
What was the best advice you were given during your time at Wake Div? What would you have told your first-year self starting out?
I can't help but reflect on the words of Howard Thurman, "Don't ask what the world needs. Ask what makes you come alive, and go do it. Because what the world needs are people who have come alive."
The moment I entered the doors of Wingate Hall for orientation I knew Wake Div would be a place where I could come alive in my vocation. This quote from Howard Thurman encompasses the world of ministry through my eyes. So often people ask the question, "How are you going to use that degree?" My new response is, "in a way that makes me come alive in who God created me to be."  I would tell my first-year self to embrace the community. Life changes so quickly and not many places provide the support and love like that which comes from the Wake Div community. I would also tell my first-year self to place all the information learned in the context of my vocation. When I allowed myself to truly come alive in my calling, I related so much to the diverse classes and conversations.
What will you miss most about Wake Div?
I will miss the classes. Appropriately challenging and stimulating, I learned a lot about myself and other people though the diverse subject matters and group discussions.
I will miss the community. There is nothing like setting up for community lunch while my classmates gather around the piano singing praise hymns. It really reflects the meaning of what we are called to do with our lives. Serve each other through knowing our God and making God known.
What is your favorite memory from your time at Wake?
Traveling to the mountains of Appalachia for my multicultural context trip is one of my fondest memories. I went back to a place I had known as a child only to see it transform before my eyes. My passion for ministry in the mountains soared as I jumped up and down on the inside. I felt fully aware of my calling in the moments around the discussion table, the onsite visits, and the three mile hike during our day of silence. As we broke the silence by sharing communion around the baptismal pool I felt a soft whisper of affirmation that this would not be the last time I shared the Lord's Supper in nature.
Who or what has influenced you the most during your time at Wake? How?
Each semester seemed to present a theme with the classes I chose. The way God weaved together my academic requirements is truly a masterpiece. The individual classes painted a picture of just what I needed at that time in my degree or in life: inspiration or affirmation. I always found comfort in the way each class contributed to my education and calling in its own unique way.
What does earning this degree mean to you?
Empowerment. This degree serves as a vehicle into a world of ministry where too often people have been misinformed about the grace of God and the love of Jesus. The Master of Divinity program opened my eyes to ways I can minister to the "nones" that meet them right where they sit. Summer camp is a fantastic opportunity to break down the barriers of mistrust, neglect, and exclusion felt by so many children and youth in today's society.
The M.Div. degree empowers me to step forward and reach out a hand to those sitting next to what Paul refers to as the "gate called beautiful" in Acts 3. The beggar encountered by Peter and John felt he did not deserve the same as those entering the temple and the presence of God. The knowledge and experience gained through this degree spurs me into action for those who have been disenfranchised by the concrete walls of the faith to which they cling.
Name some of your accomplishments while at Wake and groups/service you've been involved with.
I had the opportunity to serve as a member of the "lunch bunch" tasked with preparing and resetting the community space for our twice-weekly community lunches. This position was fulfilling in the interactions with my coworkers. It also felt good to literally serve a meal to my classmates and professors. That was my contribution to the community atmosphere.
Do you have a job/vocational plans lined up? If so, what, where?
With great excitement, I can share that I am the new Assistant Summer Camp Director at the Williams YMCA of Avery County in Linville, NC! Summer camp ministry is what makes me come alive. I am thrilled and humbled to start my summer camp ministry career in this position.
Other Class of 2016 Graduate Features
Categories: Current Students, Graduation, News
Recent Posts
June 1, 2023

May 19, 2023

April 5, 2023