Main Content
by Andrea Simmonds (MDiv '18), Office of Communications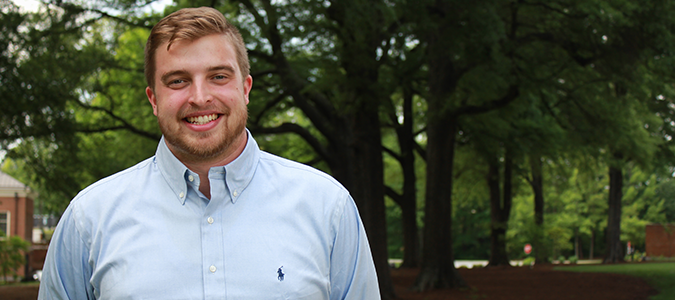 Name: James Crockett Harris III
Hometown: Chesapeake, VA
Denominational Affiliation: Evangelical Presbyterian Church (EPC)
Prior to attending Wake Forest University School of Divinity James received his Bachelor of Arts in History with a minor in Business Leadership from Virginia Tech. James was drawn to Wake Div upon graduating from college because of the scholarship opportunities that were afforded to him here. He also felt that Wake Forest offered to open more doors for him academically and would prepare him for ministry upon graduation.
What would I have told my first-year self starting out?
Don't be afraid to speak up! My background and beliefs are very conservative and evangelical, which is not really the "norm" here, if you even consider that there is a norm. You might face disagreement, you might get in heated discussions, and you might be hurt or hurt others by accident, but this is an environment where everyone is hashing out their beliefs and you are the one to contribute to making it a place where tough conversations can be had. Don't just sit back and try and blend in. Speak everything in love without sacrificing your beliefs on the altar of pleasing people. If everyone at the divinity school was just trying to be people-pleasers it would be a very bland experience. Also, remember, just because you have radically different beliefs than the person next to you, that doesn't mean you can't be friends with them and make them laugh. Everybody loves to laugh. That's a universal truth.
What will you miss most about Wake Div?
The people. I've made great friends here, and it is going to be a strange and difficult transition of staying in town and doing work on the WFU campus without the people I've grown to know and love. Some will remain which I am really pumped about, but it will still be a tough change to make.
What is your favorite memory from your time at Wake?
My favorite memories from my time at Wake actually take place off campus: Friday breakfasts at Jimmy the Greeks. For the past three years I've had breakfast with a few other students every Friday morning. It's just a really relaxed time to hang out, decompress from the week, and chat about what is going on in our lives. We are all in very similar phases of life and I've felt very blessed to make friends like them while I've been here. It's been a place where I can express both joys and frustrations without fear of judgment. And the waitresses know our orders by heart, which makes me strangely happy.
Who or what has influenced you the most during your time at Wake? How?
Chris Lawson (MDiv '04), who is my pastor and future boss at Reynolda Church. He has also been my internship supervisor for my third year Art of Ministry internship and my summer internship two years ago. He buys me dinner once a week and we chat about everything I'm learning. Chris and I started a website together during my summer internship (mybigjesus.com) that is a landing place of different theological ideas, and this year for my internship I have been writing a book for discipleship curriculum for high school students. Those projects have been a whole lot of fun. Over the past three years he has taught me more about leadership, following Jesus, and effective ministry/use of time than probably anyone in my entire life. And to top it all off he is presiding over my wedding this summer. Thanks Chris!
What does earning this degree mean to you?
Gosh. The past three years have flown by, and it hasn't really hit me soon that I will have a degree from Wake Forest University. First off, this degree means that I survived Greek with the same grade as Josh Godwin (MDiv '16), so that is definitely an accomplishment. Most importantly, though, it proves that I put myself in an unfamiliar situation, with people who don't believe or affirm the same things I believe. Unfortunately, out of the reformed tradition there aren't a ton of people who go to seminaries and divinity schools that cover anything other than a mile-deep reformed theology. It's not a bad thing, but I think this degree shows that I put myself in a place that wasn't always comfortable, but that allowed me to grow and learn how to talk to people who don't believe the same things as me. I'm really proud I came out of here firm in my beliefs, but also that I didn't take the comfortable road.
Name some of your accomplishments while at Wake and groups/service you've been involved with.
I've been a part of more losing intramural teams than I can count on both hands, but it has always been fun, even when we are getting mercy ruled in ultimate frisbee by a group of frats. I worked with Young Life for two years at Reynolds High School in Winston-Salem and also got to know a ton of college-aged leaders during that time. I felt like that really let me get into the greater Winston-Salem community and fall in love with the city. My greatest accomplishment, however, was being commissioned as a Second Lieutenant, Chaplain Candidate in the United States Air Force. It involved a ton of paperwork, losing 20 pounds and going through 5 weeks at officer training school, plus another two months of training after that, but it was definitely worth it. I also got to introduce one of my personal heroes, Bob Goff, when he spoke in Wait Chapel during my second year. That was pretty cool.
Do you have a job/vocational plans lined up? If so, what, where?
Next year I will be the Director of College Ministry at Reynolda Church in Winston-Salem. Upon ordination in the EPC, I will be a chaplain in United States Air Force Reserves, with plans of eventually going active duty.
Other Class of 2016 Graduate Features
Categories: Current Students, Graduation, News
Recent Posts
June 1, 2023

May 19, 2023

April 5, 2023