Main Content
by C. Mark Batten, Office of Communications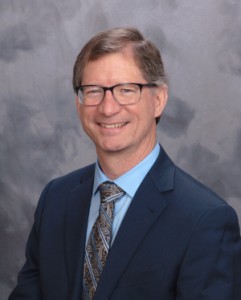 The Rev. Dr. John C. Dorhauer, ninth general minister and president of the United Church of Christ (UCC), will deliver the address for the Mac Bryan Prophetic Preaching Series on Thursday, April 7 at 11 a.m. in Wait Chapel. Titled, "Where All Are Welcome," Dorhauer will explore the question of what the church would look like if it rebuilt itself in the image and likeness of a God who showed no partiality.
The Mac Bryan Prophetic Preaching Series honors the late George McLeod "Mac" Bryan, Sr. who was professor of religion at Wake Forest University for 37 years. In addition to teaching courses on feminism, religion and science, and liberation theology, Bryan fought tirelessly for Civil Rights, pursued social reform, and was instrumental in helping to integrate Wake Forest College in the 1960s. The series, established by Wake Forest graduates George and Carol Williamson, brings preachers and speakers to the Wake Forest campus who will inspire students to live and serve at the intersection of Christianity and social justice.
Under Dorhuaer's leadership, the United Church of Christ recently launched plans to amplify its public voice by developing creative ways to speak and be heard on pressing issues like racism, immigration, climate change, voting rights, and mass incarceration. The initiative has gained momentum as an opportunity for the denomination to speak prophetically and reengage the relevancy of the church.
"Our voice matters and our actions affect real change," said Dorhauer in a statement released by the UCC in December 2015. "When we utilize our collective agency for the common good, it makes a real difference."
Dorhauer has a Master of Divinity degree from Eden Theological Seminary and a Doctor of Ministry from United Theological Seminary. He has previously served as the conference minister of the Southwestern Conference of the UCC, which includes Arizona, New Mexico, and areas of Texas, associate conference minister in the Missouri Mid-South Conference, and on staff at several rural churches in Missouri. Dorhauer has authored two books and recently wrote the forward for the highly acclaimed article, "When Exemption Is The Rule: The Religious Freedom Strategy of the Christian Right," published earlier this year by Political Research Associates. The article also references a 2014 UCC court case against the state of North Carolina as an example of progressive faith communities fighting for human rights.
"Dorhauer is a leading prophetic voice in American Christianity today," said School of Divinity Dean Gail R. O'Day. "Our community will have an opportunity to hear from the chief executive of a Protestant denomination that has a long standing mission to be a church for all people. He is committed to the church's public witness for social justice."
UCC Friends and Clergy:
If you plan to join the School of Divinity, please complete this brief RSVP to let us know of your attendance so that we can plan accordingly for lunch. Lunch will be held directly after Dorhauer's address. RSVP no later than Friday, April 1.
After his address, Dorhauer will host an informational session geared for UCC students, clergy, and those interested in the UCC tradition to discuss the state of the denomination's initiatives. This conversation will take place at 12:30 p.m. in the Lower Auditorium of Wingate Hall on the WFU campus.
Thursday's events are open to the public. Parking is available in several visitor lots – including lots C, M, and Q – on Wake Forest's campus.
Categories: Media Advisory, Special Events
Recent Posts
June 1, 2023

May 19, 2023

April 5, 2023