Main Content
by Andrea Simmonds (MDiv '18) and C. Mark Batten, Office of Communications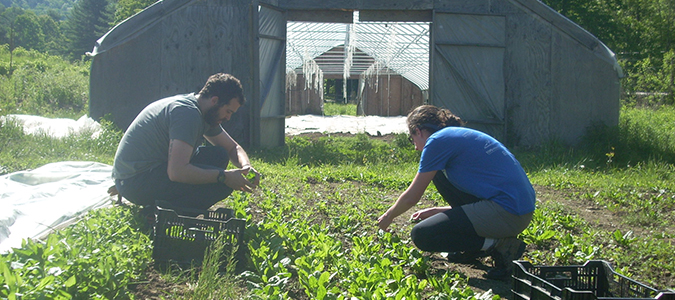 Wake Forest University School of Divinity has been named one of the top 25 seminaries that has courses on faith and ecology as an integral part of its curriculum. In its first ever Report on Faith and Ecology Courses in North American Seminaries released by The Interfaith Center for Sustainable Development, 213 seminaries were surveyed.
"It is our hope that our seminaries and houses of formation will provide an education in responsible simplicity of life, in grateful contemplation of God's world, and in concern for the needs of the poor and the protection of the environment," the report states in its introduction.
In its Master of Divinity curriculum, the School of Divinity offers many courses on faith, ecology, and sustainability that can be taken as electives or foundational courses within the Food and Faith degree concentration. These courses include Tree of Life: Christianity, Climate Change, and Ecological Vocation; Field, Table, Communion: The Spirituality of Food; Food, Faith, and Health: Navigating the Intersections in Community; and Daily Bread: Food, Faith, Mercy, and Justice. These courses are designed and taught in a way that enables students to lead in their communities and ministries on how the critical issues of food justice, creation care, and personal well-being intersect.
In addition to academics, over the past three years the School of Divinity has emerged as a national leader in addressing sustainability, climate change, and food insecurity through its Food, Faith, and Religious Leadership Initiative, a robust continuing education program. The initiative's workshops, conferences, and retreats have attracted hundreds of participants from 17 states and five countries, and from more than a dozen Christian denominations, as well as from other faiths. With support from Kalliopeia Foundation and the Byron Fellowship Educational Foundation, the initiative created the Re:Generate Fellowship, a national program for young faith leaders who work in the areas of food justice and sustainable agriculture. Every June it also convenes a 5-day summer immersion course in Food, Faith, and Ecology in the North Carolina mountains.
In a note to the School of Divinity, The Interfaith Center for Sustainable Development's Founder and Executive Director Rabbi Yonatan Neril wrote, "We hope to join with you in the process of reorienting our global community towards the collective protection of God's great dominion, starting with the future leaders in your classrooms."
The full report can be reviewed at interfaithsustain.com.
Categories: News, Religious Leadership and Food, Health, and Ecology
Recent Posts
June 1, 2023

May 19, 2023

April 5, 2023