Main Content
by Andrea Simmonds (MDiv '18), Office of Communications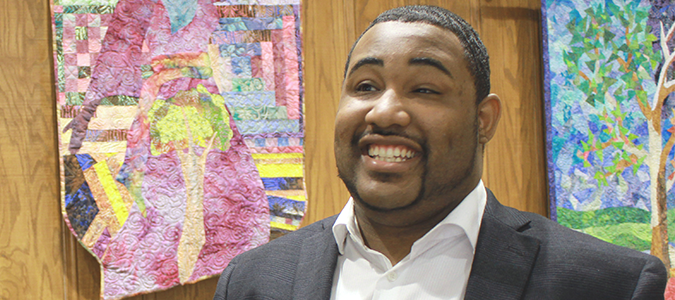 Name: Kenneth Pettigrew
Hometown: Winston-Salem, North Carolina
Denominational Affiliation: Christian Methodist Episcopal
Before attending Wake Forest University, Kenneth received his Bachelor of Music in Vocal Performance from the University of North Carolina School of the Arts. Kenneth was drawn to Wake Divinity because of the diversity he could feel and see upon visiting. The school felt like home after searching for a place to explore and expand his faith.
What are some of your accomplishments or service you've been involved with?
My time at Wake Div has been an incredible journey. I was honored to be asked to represent Wake Div as part of a grant from the Calvin Institute for Christian Worship in summer 2014. While at Wake I have had the privilege to serve as a co-leader of Lift Every Voice, which is a student-led singing group at the School of Divinity, and on the Worship Committee. I have also served on the Council of Student Presidents, Student Leadership Council (SLC) Financial Steward, and this year as SLC President (Editor's Note: SLC is the student government of the School of Divinity).
As a lifelong resident of Winston-Salem, I have always been involved in my community, but in my three years at Wake Div I have enjoyed several special opportunities. In 2014 I was appointed by Mayor Allen Joines to the Citizens' Bond Oversight Committee. Reaching back to my past work in philanthropy, the Committee of the Winston-Salem Foundation voted to add me to the Grantmaking Subcommittee in 2016. At the 143rd Session of the Carolina Region of the Christian Methodist Episcopal Church's Annual Conference, I was elected as Vice President of the Annual Conference Young Adult Council.  In the summer of 2015 I worked as an intern at United Way of Forsyth County doing faith-based outreach for their new place-based initiative. In September, I was asked to join the staff part-time to continue to do outreach as the Coordinator for Faith-Based Community Engagement. In that role, I have been a contributing member in the pilot year of the Place Matters Initiative at United Way.
Is there a person or experience that has influenced you the most during your time at Wake? How?
My summer internship at United Way of Forsyth County in 2015 had a significant impact on me. I really enjoyed my work as I had the opportunity help grow and shape their new place-based initiative; their model uses the principles of asset-based community development to address the issues in places that are historically overlooked by those with resources. An element of that work is engaging faith-based communities to gather their wisdom about the neighborhoods in which they serve and to find ways to support the current work of faith communities or any new work they may be interested in doing. Helping faith-based communities in this way impacts on the ground work that is influential throughout the community.
What is your favorite memory from your time at Wake Div?
I have enjoyed the Scandal and How To Get Away With Murder nights on Thursdays! A group of us would gather and always end up completing theological and pastoral analyses of the characters. It never failed that someone would ask, "What's the theological significance of that?" when a character would do something really unexpected.
What does earning this degree mean to you?
This degree is one part of a long-held dream to do my part in God's community. Even when I was a child, many folks recognized my calling and were pushing me in this direction all of my life. I pushed back as I tried to figure out who I was, both as person and Christian. This degree offers tangible expression to my struggle to reconcile personhood, calling, and the birth of vocational identity.
What's next? Do you have a job/vocational plans lined up?
I will continue working, on a full-time basis, as the Faith-Based Community Engagement Coordinator for United Way of Forsyth County.
Other Class of 2016 Graduate Features
Categories: Current Students, Graduation, News
Recent Posts
June 1, 2023

May 19, 2023

April 5, 2023