Main Content
by Hilary Floyd (MDiv '10) and C. Mark Batten, Office of Communications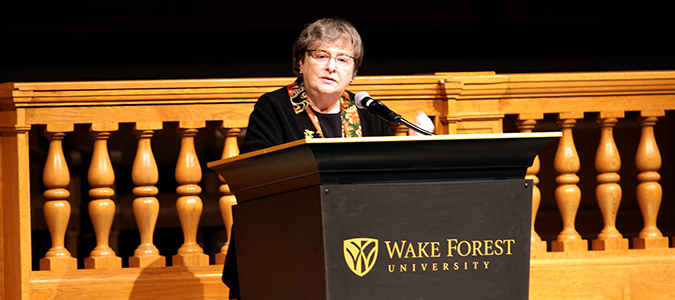 On March 1, Elizabeth A. Johnson presented the Margaret A. Steelman Lecture. Johnson, Distinguished Professor of Theology at Fordham University, framed her lecture around the evocative question, "Is God's charity broad enough for bears?" This question arose for Johnson in response to an observation by naturalist John Muir, who after coming across a dead bear in the woods expressed a disdain for people of faith who believe that divine mercy does not extend to such creatures. Johnson sought to engage this challenging question as the crossroads of ecology and theology.
Over 300 people were in attendance at the lecture, while close to 100 viewed it via live stream. Many were School of Divinity alumni who had read her work, She Who Is, in their introduction to theology class. All listened attentively as Johnson eloquently unpacked the religious significance of the natural world. She highlighted that for far too long, humans have understood themselves to be the pinnacle of creation, leading many to regard the rest of the created world as objects to be used and exploited. Noting that currently 23,000 species per year are becoming extinct in the rainforest alone, Johnson described the "terrible drama being played out" and called for a deep conversion to the earth in which we understand that every part of the natural world has innate value and bears the mark of the sacred.
Johnson hopes that humankind can begin to "weave the natural world back into our religious imagination" so that loving the earth becomes an intrinsic part of its relationship with God.
"We must move onward to a future where creation can continually surprise us," she said in closing. "We have not a moment to lose."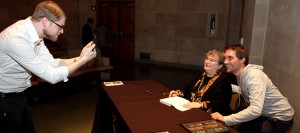 After she concluded her lecture, many waited in line to pick up a copy of her latest work, Asks the Beasts: Darwin and the God Love, and speak to her individually. As she signed books, questions and conversation continued around the intersections of Christian theology, ecology, and human responsibility. Johnson encouraged all that action on behalf of eco-justice should become an inseparable part of religious living.
Watch Again
"Is God's Charity Broad Enough for Bears?" »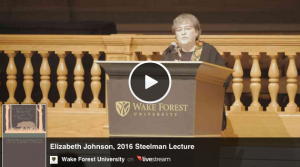 Johnson has received fifteen honorary doctorates, the John Courtney Murray Award for distinguished achievement in theology, and numerous other accolades. Her book, She Who Is, garnered several honors, most notably the Grawemeyer Award in Religion. Her work has been translated into thirteen languages. Johnson's most recent book, Ask the Beasts: Darwin and the God of Love, concludes that love of the natural world is an intrinsic element of faith in God and far from an add-on ideal.

About the Steelman Lectures
The Margaret A. Steelman Lectures were endowed in 1998 with a gift from Dr. Sanford L. Steelman in honor of his wife,  Margaret A. Steelman, and to establish a legacy at the newly established School of Divinity at Wake Forest University. The Steelmans were originally from Hickory and returned there to retire in 1988.  Dr. Steelman spent 28 years with Merck Research Laboratories in New Jersey.  His career as a biochemist was distinguished with hundreds of scientific articles and five patents.  They were active members of First Baptist Church, Hickory, NC. This lectureship provides funding for prominent lecturers of Judeo-Christian theology.
Categories: News, Special Events
Recent Posts
May 19, 2023

April 5, 2023

March 21, 2023