Main Content
by C. Mark Batten and Hilary Floyd, Office of Communications
What: A film screening of Call of the Forest: The Forgotten Wisdom of Trees featuring the work of Dr. Diana Beresford-Kroeger. This film follows Diana Beresford-Kroeger as she tours some of the earth's last, great forests, from Japan, Ireland, Germany, to the United States and Canada, meeting many of the world's most ancient trees and educating people about their history and legacy – a history and legacy that is deeply entwined with our grand and benevolent neighbors, the trees. Through her work featured in this documentary film, Beresford-Kroeger examines the multitude of ways in which trees "hold up the world." She argues that we must begin to value them for what they are: incredible banks of untapped answers to the diverse man-made problems of our world. Following the film screening, she will take questions from the audience.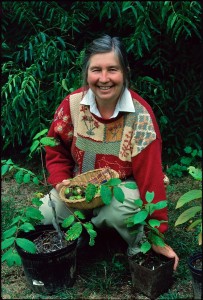 Who: Diana Beresford-Kroeger, a botanist, medical biochemist and self-defined "renegade scientist," brings together ethnobotany, horticulture, spirituality and alternative medicine to reveal a path toward better stewardship of the natural world. In 2010, she was inducted as a fellow by Wings Worldquest, an organization that showcases the groundbreaking work of women scientists and explorers whose discoveries lead to a better understanding of the world. Diana's latest book is called The Sweetness of a Simple Life (Random House Canada). It contains easy doses of healing and practical wisdom, blending modern science and medicine with aboriginal traditions.  A precise and poetic writer steeped in Gaelic storytelling traditions gathered from her childhood in Ireland, Diana's previous books include The Global Forest, Arboretum Borealis: A Lifeline of the Planet, Arboretum America: A Philosophy of the Forest, A Garden for Life and a collection of stories, Time Will Tell.
When and Where: Monday, April 4, 7 p.m. in Brendle Recital Hall, Scales Fine Arts Center. Doors open at 6:30 p.m.
Why: This event is free and open to the public (registration is recommended) and sponsored by the Food, Faith, and Religious Leadership Initiative at the School of Divinity. This Initiative equips faith leaders and congregations to become change agents in food security, community health, and resilient food economies. Since the Initiative began three years ago, School of Divinity at Wake Forest University has emerged as a national leader in addressing sustainability, climate change, and food insecurity through the lens of faith.
Dr. Beresford-Kroeger will also host a walking conversation through Wake Forest University's Reynolda Gardens on Tuesday, April 5 beginning at 4:30 p.m.
More detailed information about these events, including registration, is available here.
Categories: Media Advisory, Special Events
Recent Posts
June 1, 2023

May 19, 2023

April 5, 2023