Main Content
by C. Mark Batten, Office of Communications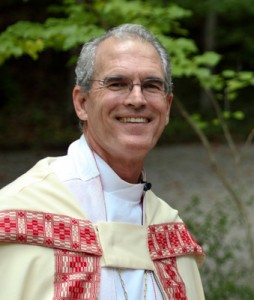 The Bishop of the Episcopal Diocese of Western North Carolina, The Rt. Rev. G. Porter Taylor, will speak at Wake Forest University School of Divinity on Thursday, March 31 at 11 a.m. in Davis Chapel, located in Wingate Hall. Bishop Taylor will lead worship and preach from John 20:19-31.
Later in the afternoon, Bishop Taylor and other Episcopal leaders will host an information session, geared for Episcopal students or those who are interested in the Episcopal tradition, to discuss the state of affairs of the Episcopal Church, ways to navigate the ordination process, and how to find a ministry position. This conversation will take place at 2 p.m. in Room 107B of Wingate Hall on the WFU campus.
Bishop Taylor's visit is part of a series of Denominational Days hosted annually by the Office of Leadership Development and Spiritual Life at the School of Divinity. Denominational Days offer students connections to denominational clergy and leaders, and provide resources about a denominational tradition as students discern their vocational options.
The Rt. Rev. G. Porter Taylor, a native of Asheville, NC, was consecrated as the sixth bishop of the Episcopal Diocese of Western North Carolina in 2004. He earned his B.A. degree in English from the University of North Carolina at Chapel Hill, an M.A. in English from the University of South Carolina, and a Ph.D. in theology and literature from Emory University. He also holds an M.Div. from The School of Theology at Sewanee. Before his call to the Holy and Sacred Order of Bishops, Bishop Taylor served seven years as rector of St. Gregory the Great Episcopal Church in Athens, GA. He is the author of To Dream as God Dreams: Sermons of Hope, Conversion, and Community and From Anger to Zion: An Alphabet of Faith.
Thursday's events are open to the public. Seating is limited and available on a first-come, first-served basis. Parking is available in several visitor lots – including lots C, M, and Q – on Wake Forest's campus.
Categories: Media Advisory, Special Events, Spiritual Life
Recent Posts
June 1, 2023

May 19, 2023

April 5, 2023