Main Content
Media Contact: C. Mark Batten, battencm@nullwfu.edu, Office of Communications
What:  A lecture titled, "Is God's Charity Broad Enough for Bears?" This year's School of Divinity Steelman Lecture is inspired from an observation by the naturalist John Muir. Coming upon a dead bear in the woods, he scorned those religious folk who excluded such noble creatures from divine mercy. To the contrary, he wrote, "God's charity is broad enough for bears." Is it? Making use of Pope Francis' encyclical Laudato Si', this lecture will explore key theological themes needed for conversion to the earth in this age of ecological crisis. Rather than forcing a choice between heaven or earth, the lecture will seek to invigorate ethical behavior that cares for plants and animals with a passion integral to belief in the living God.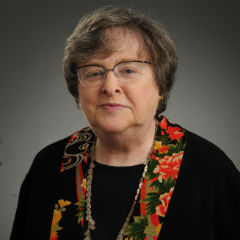 Who: Elizabeth A. Johnson, Distinguished Professor of Theology at Fordham University, whose book She Who Is has garnered several honors, most notably the Grawemeyer Award in Religion. She is also the author of Ask the Beasts: Darwin and the God of Love, which leads to the conclusion that love of the natural world – like plant and animal species that have received little sustained attention as subjects of Christian theology and ethics in their own right – is an intrinsic element of faith in God and that far from being an add-on, ecological care is at the center of a moral life. Johnson's work has been translated into thirteen languages, including German, Spanish, French, Italian, Portuguese, Dutch, Polish, Icelandic, Lithuanian, Bosnian, Korean, Indonesian, and Thai. She serves on the editorial boards of the journals Theological Studies, Horizons: Journal of the College Theology Society, and Theoforum. Johnson is also deeply involved in the life of the church, having participated with the national Lutheran-Catholic Dialogue (1984-1991) and served as a consultant to the US Catholic Bishops' Committee on Women in Church and Society, among other involvements.
When and where: Tuesday, March 1, 7 p.m. in Wait Chapel. Doors open at 6 p.m.
Why: This event is free and open to the public and sponsored by the School of Divinity. The Margaret A. Steelman Lectures were endowed in 1998 by Dr. Stanford L. Steelman in honor of his wife. Steelman was a distinguished biochemist who spent 28 years with Merck Research Laboratories in New Jersey. The lectureship brings prominent Judeo-Christian theologians to Wake Forest University.
For more detailed information, please visit the event page.
Categories: Media Advisory, Special Events
Recent Posts
June 1, 2023

May 19, 2023

April 5, 2023