Main Content
by Andrea Simmonds (MDiv '18) and C. Mark Batten, Office of Communications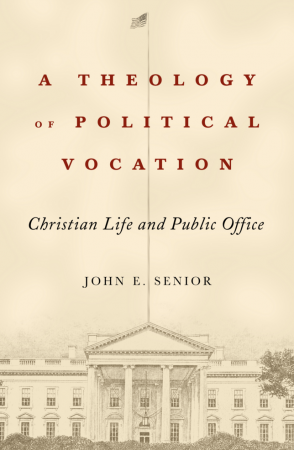 John Senior, Assistant Teaching Professor of Ethics and Society and the Director of the Art of Ministry Program, has recently published A Theology of Political Vocation: Christian Life and Public Office (Baylor University Press, 2015).
"I've noticed that theologians talk a lot about how Christians ought to participate in political life, as if that's a straightforward task, " Senior said. "But there has not been much attention paid to how morally complex and morally ambiguous participation in politics really is – and what that complexity and ambiguity means in a theological point of view."
In the book, Senior explores the nature of good political work, examining the uses and consequences of political power, the meaning of political representation, and how politicians should engage negotiation and compromise.
Senior's interest in politics informs his teaching. Students in Senior's courses learn how Christian citizens engage public and political life.  Last summer, Senior co-taught a course with Rev. Frank Dew, Chaplain at Greensboro Urban Ministry in Greensboro, N.C., called "Christian Witness in Public Life: Local, National, and Global Landscapes in Washington, D.C."  Held in Washington, the course examined different ways Christians practice their faith in public and political spaces. Students participated in the work of organizations like Bread for the World and the Dorothy Day Catholic Worker community.
"The course gave students first-hand experiences with different forms of political expression. It showed the advantages and disadvantages both of working within political systems to create change and of standing outside of systems to call prophetically for change" Senior said.
The D.C. course has had historical popularity with School of Divinity students. The late Professor James Dunn initially developed the course. "Dr. Dunn was a faithful and savvy political operator in D.C., and students in his Washington courses benefitted tremendously from his wisdom, experience, and connections. When Dr. Dunn retired, we wanted to continue the tradition of the D.C. course, albeit with a somewhat different emphasis," Senior said.
Senior deals with the moral ambiguity of politics in the book, but also how Christians need to respond to politics. He raises questions about what it means to be an active participant in political institutions and the demands political institutions make on moral formation. The book functions well for ministers and people of faith who are interested in thinking in more expansive ways about political life.
In this work, Senior's goal is for religious leaders to make hard decisions about the truths they want to defend and advance in public space. "As far as public witness goes, there are advantages and disadvantages to the proximity of the system one wants to change," Senior believes.
Through his vocation as a teacher and scholar, and his facilitation of direct experience of the challenges associated with public witness, Senior is aiding students to become more effective Christian public leaders and activists in their communities.
Categories: Collaborative for Public Religious Leadership, Faculty, News
Recent Posts
May 19, 2023

April 5, 2023

March 21, 2023