Main Content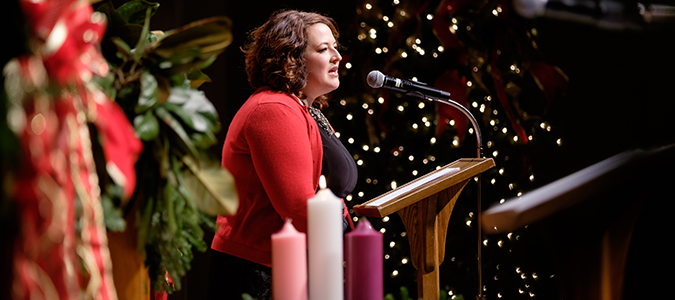 by C. Mark Batten, Office of Communications
The Reverend Emily Hull McGee, Wake Forest University School of Divinity 2009 alumna and Pastor of First Baptist Church on Fifth in Winston-Salem, offered the Reflection at Wake Forest University's Annual Lovefeast on Sunday, December 6.
"Our annual traditions are meaningful and the rituals are significant, but we have the chance tonight not just to go to a Lovefeast but become people who feast on love. We have a chance to find hope in the headlines, wage peace in our relationships and city, choose joy over indifference, and to do the work of love in the living of our days," McGee said. "We have the chance to create more room at the table, find ways to shine light in our life's darkest corners, to rest in the mystery of the not knowing, and to let our selves be stirred deeply, looking upon one another as God does. To love fully, freely, equally, and unconditionally. We have the chance to let this celebration – this Lovefeast – to inform something bigger."
» Watch (McGee's reflections begin at 21:45)
» This Year's Program
» Photos
The Lovefeast at Wake Forest
Moravian student Jane Sherrill Stroupe ('67) organized the first Wake Forest Lovefeast in December 1965. Two hundred students gathered to celebrate the traditional meal. Since then, the Wake Forest Lovefeast has grown to be the largest Moravian-style lovefeast in North America, and one of the favorite features of Wake Forest tradition.
The Wake Forest Lovefeast meal consists of a sweetened bun and creamed coffee, which dieners (German for "servers") serve to participants. During the meal, music from the Wake Forest Concert Choir, Handbell Choir, Flute Choir, and the Messiah Moravian Church Band fills the air. During the service of song and scripture reading, everyone receives a handmade beeswax candle decorated with a red paper frill. A warm glow fills the chapel as the candles are lit while worshipers sing the final hymns.
The Origins of the Lovefeast
The first lovefeast was served in Germany on August 13, 1727, following the renewal of the Moravian Church. The lovefeast is not to be confused with the sacrament of Holy Communion, but is styled after the common meal partaken in love and fellowship by the early church as described in the book of Acts. This simple service provides an ideal setting for breaking human and religious divides.
Lovefeasts nourish the soul, give us pause and inspire. They transport us to sacred realms and add beauty to our often complicated lives. Wake Forest's Annual Lovefeast can be captured in a single word – love.
Categories: Alumni, News, Special Events
Recent Posts
June 1, 2023

May 19, 2023

April 5, 2023