Main Content
by Andrea Simmonds (MDiv '18) and C. Mark Batten, Office of Communications
Wake Forest University School of Divinity has received a $300,000 grant from the E. Rhodes and Leona B. Carpenter Foundation that will fund five full-tuition plus stipend merit scholarships for students. The grant enhances the school's dedication to creating an environment centered on the well-being of students in all aspects of their lives and ministry. One of the key commitments in this endeavor is student financial aid and reducing student indebtedness.
"Carpenter Fellows will be able to emerge from our program with little to no financial burden," said Gail. R. O'Day, Dean of the School of Divinity. "They will have maximum flexibility in selecting a ministry that is aligned with their passions, talents and commitment to community."
Shonda Jones, Associate Dean of Admissions and Student Services, agrees with O'Day and is looking forward to the ways the Carpenter Fellowship will help attract and support exceptional students for the Master of Divinity program. "The majority of students we attract are young and at the beginning of what will be a full career in ministry," Jones said. "Students who are named Carpenter Fellows will be able to focus on what really matters, the difference they seek to make by pursuing graduate theological education as preparation for a life of community engagement."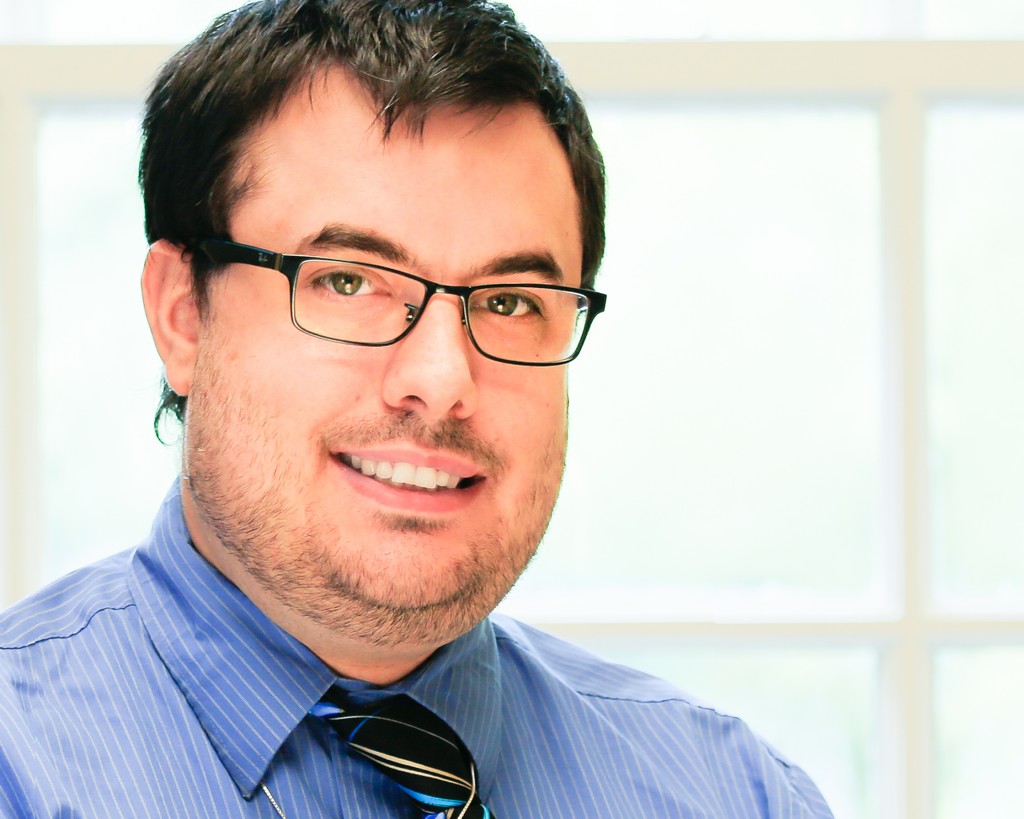 The first Carpenter Fellow is Master of Divinity student George Travis Woodfield. From Mohnton, Pennsylvania, Woodfield earned his Bachelor of Arts degree in philosophy from Franciscan University of Steubenville and holds a Master of Arts degree in Franciscan Studies from St. Bonaventure University.
Before coming to the School of Divinity in the fall of 2015, he served as a chaplain intern, chaplain resident, and spiritual counselor in hospitals throughout Pennsylvania and as a friar in St. Augustine Province. Woodfield also was an adjunct professor of theology at Alvernia University. His wife, Rachel, is an ordained Evangelical Lutheran Church in America minister in the Northeastern Pennsylvania Synod.
Woodfield said his experiences in hospital chaplaincy brought him to divinity school. "I thought I had all the answers four years ago. I've completed meaningful service work, but my experiences in chaplaincy were the first time I made a difference, because of the immediacy and realness. Ministry is one place where theory doesn't matter. A person's experience is what matters."
The diversity within the School of Divinity and its supportive environment is what initially attracted Woodfield to the school, and the Carpenter Fellowship was the deciding factor. "The Carpenter Fellowship is definitely the reason why I was able to go to divinity school. Without the Fellowship there is no way I would be able to be here."
Carpenter Fellows will be selected during the School of Divinity's annual Wake Divinity Scholars Visit. Every spring the most promising MDiv applicants with the strongest academic backgrounds and most promise for impactful ministries are invited to campus to attend classes, meet students and faculty, and experience the School of Divinity for themselves.
In addition to this grant, the Carpenter Foundation has been an important long-term partner in the success of the School of Divinity. Previous grants made it possible for the School of Divinity to create professional development and placement programs for graduating students and alumni.
Categories: Admissions, Grants, News
Recent Posts
June 1, 2023

May 19, 2023

April 5, 2023