Main Content
by Andrea Simmonds (MDiv '18) and C. Mark Batten, Office of Communications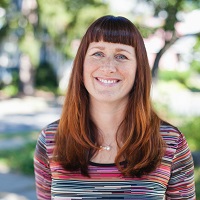 On Tuesday, October 20 members of the Wake Forest community gathered together for worship in Davis Chapel with the Rev. Molly Phinney Baskette, lead pastor at First Church Somerville UCC in Boston, Massachusetts and author of the hit books on church renewal, Real Good Church: How Our Church Came Back from the Dead and How Yours Can Too (Pilgrim Press, 2014) and Standing Naked Before God: The Art of Public Confession (Pilgrim Press, 2015). She also serves as a senior consultant for the Center for Progressive Renewal.
Leading worship, Baskette spoke about her success in reviving First Church Somerville. The sermon focused on 'being real' and being vulnerable in church and with one another.
One way she accomplished this was by beginning worship with a call and response activity to help worshippers recognize and honor differences. Baskette welcomed worshippers by calling out phrases such as, "Whether you are black or white," with the response, "or a little bit of each." The exercise drew attention to the fact that the same things that worked a few years ago for churches are not the same things that would work today, or as Baskette put it, "Is there something in a new church DNA?"
Baskette discussed the issue of churches beginning to become anxious and the rise of those who are increasingly identifying as being non-religious, or a 'none.' "When we church folk get together we end up in an anxious huddle. Recent surveys from The Pew Research Center keep triggering the anxiety in the body of the church."
As Baskette helped worshippers unpack Luke 14:7-24, she spoke to how the Parable of Feast expresses how churches today have, or ought to have, what many people desire: meaningful spiritual practices, authenticity, beauty and a feeling of transcendence, and radical acceptance without judgment. "If we could learn to live in this beauty and authenticity, the feast table would be full."
"If you can't come to church as yourself then what's the point of coming to church at all?," Baskette began as she told the story of what happened at First Church Somerville a week ago when they were having a Drag Gospel Festival. On the day of the festival a young man showed up and began to spout verses and condemn the congregation.
"We all froze," Baskette recollected. "Thoughts of Charleston and the three recent school shootings came flooding back."
Baskette then began to tell of how the church raised their hands in blessing towards the young man and the associate pastor was eventually able to calm him down. Before the young man left the church told him they loved him. His response was, "I love you, too."
"It was church in the most magnificent way," Baskette said. "Answer hatred and fear with love. In that moment we were reminded that to be vulnerable is also to be wounded. We can play church vulnerable. Jesus never said following him would make us safe."
First-year student Ethan Cagle enjoyed how Baskette spoke about authentic acceptance. "I'm not a fan of definite labels because they can create an atmosphere of exclusion, so I appreciated her example of creating an inclusive environment."
Rev. Dr. Shonda Jones, associate dean of admissions and student services, extended the invitation to Baskette to lead community worship earlier this year. "I thought the service was beautiful," Jones said. "We thought this would be an excellent opportunity to bring a dynamic preacher and pastor who has been a part of the church renewal movement."
"Not only that," Jones continued, "I think it is important for our students to encounter and engage with pastors who are excited about doing creative, risk-taking ministry. The notion that the Church (big "C") is alive with possibilities resonates with our mission here at the School of Divinity."
After the worship service, Baskette lead a conversation on church renewal with faculty, staff, and students during community lunch.
Categories: News, Special Events
Recent Posts
June 1, 2023

May 19, 2023

April 5, 2023